Historical
A Short History of the Trombone
A Little Something about Jazz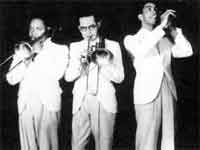 God's Trombones
Joe "Tricky Sam" Nanton, Juan Tizol, and Lawrence Brown
(7.1) The roots of jazz are many, with elements descended from both Africa and Europe. It is generally agreed that all of these elements first came together as jazz in New Orleans. By 1910, a style of playing emerged, often called dixieland, that featured trumpet, clarinet, and trombone improvising melodic ideas along with a rhythm section made up of some combination of piano, drums, string bass, tuba, and guitar. It seems no accident that the three major melody instruments were exactly those made popular in New Orleans in the 1830s as Alessandro Gambati (trumpet), James Kendall (clarinet) and Felippe Cioffi (trombone) electrified the city with their solo performances between the acts of operas. These particular great-grandparents of New Orleans jazz have not often been mentioned in the literature, but serve to show the variety of musical experience that was in the mix.
(7.2) More commonly mentioned are the wind bands (5.10) that were ubiquitous in the last quarter of the nineteenth century. Generally speaking, these bands varied widely in terms of the musical knowledge and technical competence of the players. It was no different among black bands, except that the ones that had the most trouble locating teachers or trained bandmasters were likely to draw from their heritage of African rhythmic and formal procedures.
(7.3) Although it is an oversimplification, it is common to divide the history of jazz into three overlapping eras: dixieland, swing, and bebop. Dixieland bands normally had one trombone. All the players typically improvised their parts. The swing bands played from written charts, which often included opportunities for improvised solos. The swing era coincided with jazz's widest popularity, and most of the bands were dance bands rather than concert organizations. They usually had three or four trombones.
(7.4) Bebop, on the other hand, is conceived as art music, music for listening and not for dancing. It has never enjoyed the widespread popularity of swing music. While there are numerous legendary trombonists from the bebop era up to the present, it is quite common to have jazz groups with no wind instruments in them at all. Therefore, it seems generally true that the trombone was a more important and conspicuous part of a jazz ensemble in the early days than it is now. On the other hand, jazz has claimed its place in music education, and big bands - including school-based and community-based organizations - are still numerous.
(7.5) Online Trombone Journal author David Wilken has written a three-part survey of the trombone in jazz for this journal. His articles describe important trombonists of the dixieland, swing, and bebop eras. Any attempt to cover the same ground here would be superfluous. Even Wilken's article either glosses over several important trombonists or omits reference to them entirely. Fortunately, it is not difficult to find information about them. In addition to the resources listed here and in Wilken's bibliography, databases such as RILM or the Music Index contain references to hundreds of other articles.
A Little Something about Jazz: Reading List
Annual Review of Jazz Studies. Numerous articles.
Balliet, Whitney. American Musicians: 56 Portraits in Jazz. New York: Oxford University Press, 1988.
Berrett, Joshua, and Louis G. Bourgeois. The Musical World of J. J. Johnson. Lanham, Md.: Scarecrow Press, 1999.
Gridley, Mark C. Jazz Styles 2nd. ed. Englewood Cliffs, N.J.: Prentice-Hall,1985.
Journal of the International Trombone Association/ITA Journal. Numerous articles.
Jazz Journal. Numerous articles.
Online Trombone Journal. Numerous articles.
Stockdale, Robert L. Tommy Dorsey: On the Side. New Brunswick, N. J.: Institute of Jazz Studies, 1995.