Historical
A Short History of the Trombone
Solo and Chamber Traditions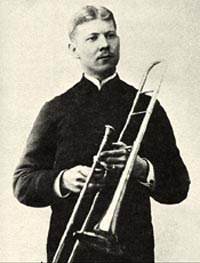 Arthur Pryor
(6.1) Music for trombone solo made several flashes in the pan (8.9) before anything that could truly be called a tradition got started. The earliest trombone solo, "La Hieronyma" by Giulio Martino Cesare, was published in 1621, although Francesco Rognone included divisions on Lasso's song "Suzanne un jour" in an improvisation treatise that appeared in 1620. An anonymous Bohemian sonata, probably from the 1660s has been issued in more than one modern edition. These three pieces may not be the only works composed for solo trombone in the seventeenth century, but there are unlikely to be very many awaiting rediscovery.
(6.2) The eighteenth-century solo literature is also a small repertoire. There are concertos by Wagenseil and Albrechtsberger, a double concerto for horn and trombone and a couple of other pieces by Michael Haydn, and a "concerto" extracted from a serenade by Leopold Mozart currently available and archival references to at least three other apparently lost concertos. All of these works were produced within the realm of the Viennese Hapsburgs.
(6.3) Beginning in the nineteenth century, however, enough trombone solos began to appear that a number of different traditions can be discerned. In Leipzig, Friedrich August Belcke appeared twice as soloist with the Gewandhaus Orchestra in 1815, beginning a thirty-year career as trombone soloist. He was soon joined by others, notably Carl Traugott Queisser and Moritz Nabich. Felippe Cioffi began his remarkable solo career in New York, and later moved to New Orleans, and then London. Antoine Dieppo became established as both soloist and conservatory teacher in Paris.
(6.4) These men began their careers at a time when art music and entertainment music were not yet considered mutually exclusive. When those two types of music emerged as separate categories, trombone solos were not welcome in art music, but common in the popular orchestra tradition (5.12). One need only mention names like Serafin Alschausky, Frederick Neil Innes, Arthur Pryor, Tommy Dorsey, and J. J. Johnson to realize that there has never been a time since Belcke's debut that has lacked well-known trombone soloists.
(6.5) The Concertino by Ferdinand David, composed for Queisser, is the most successful trombone concerto of the nineteenth century. Only a few of the many others that were published are still performed any more. The most frequently performed of the twentieth century concertos is that of Launy Grøndahl.
(6.6) The opportunity to hear or perform trombone solos with orchestra is rare, but trombone recitals on college campuses is common. Much of the repertoire can be divided into large categories. The earliest of these is music written by virtuosos for their own use. Cioffi and Belcke wrote or arranged most of the music that they played, and later virtuosos continued to do so. Most of this music was never published, and most of what was published is now out of print, but several of Arthur Pryor's have become staples of the repertoire. Christian Lindberg continues the tradition of composing and arranging music for his own use.
(6.7) Many European conservatories have long mounted annual solo contests for their students and commissioned test pieces. All of the Paris Conservatory contest pieces used since 1897 were still in print as of Robert Reifsnyder's study of them. These include works by Alexandre Guilmant and Camille Saint-Saens that probably every college-educated trombonist has played at one time or another. Frank Martin's Ballade was composed as a contest piece for an international competition in Geneva, Switzerland in 1940.
(6.8) In 1941, Paul Hindemith wrote his sonata for trombone, the first such piece ever written and the beginning of a still growing repertoire of serious concert music. In 1947 Davis Schuman presented the first full-length trombone recital. As mentioned earlier, most trombone recitals today are given by students and faculty of music schools and do not reach a wide audience. Perhaps for that reason, composers as widely known and respected as Hindemith have not followed his lead in writing solos for trombone.
(6.9) There is, however, one growing segment of the repertoire that is not initially intended for school recitals. British-style brass bands (5.7) perform a tremendous amount of new music, including solo pieces. Gordon Langford's Rhapsody is representative of this repertoire.
(6.10) There are also a number of unaccompanied pieces. Some, like Leslie Bassett's Suite, use standard techniques. At the beginning of the electronic age, however, avant garde musicians devised a number of so-called extended techniques, apparently in an attempt to imitate electronic sounds on standard instruments. Among trombonists, Stuart Dempster and Vinko Globokar were among the pioneers. They are jointly responsible for the most frequently performed of the avant garde trombone solos, Luciano Berio's Sequenza V.
(6.11) There is a long tradition of playing transcriptions on trombone. Cioffi, for example, played more operatic arias than anything else. Much of Belcke's repertoire was likewise operatic. Arthur Pryor played hymns and popular songs as well as operatic arias. It appears that André Lafosse, professor of trombone at the Paris Conservatory from 1948 to 1960, started the practice of transcribing instrumental music for trombone.
(6.12) Strictly speaking, small ensemble music is not the same thing as chamber music. Most of the early Baroque ensemble music discussed in Flashes in the Pan (8.5) was church music, for example. Beethoven's and Brucker's equali were composed as open air funeral music. Chamber music is not functional. It is composed either for the enjoyment of a small group of performers or for listening. In this sense, the brass quintets of Victor Ewald, from the early twentieth century, are probably the earliest chamber music that uses trombone.
(6.13) Besides brass quintets, now standardized as two trumpets, horn, tenor trombone and either tuba or bass trombone, there is a fairly extensive body of music for brass trio (trumpet, horn, and trombone). The most noteworthy piece for this ensemble is the Sonata by Francis Poulenc. There are also a number of trombone quartets, such as the Suite by Kazimierz Serocki. Besides standard brass ensembles, Vincent Persichetti's Serenade No. 6 for viola, cello, and trombone is representative chamber music for miscellaneous combinations of instruments.
Solo and Chamber Traditions: Reading List
Baker, Buddy. "Why? How about Who, Where, What, When? The Development of Berio's Sequenza V", ITA Journal 22 (Spring 1994): pp. 30-33.
Guion, David M. "Felippe Cioffi: A Trombonist in Antebellum America", American Music 14 (1996): pp. 1-41.
Guion, David M. "Recital Repertoire of the Trombone as Shown by Programs Published by the International Trombone Association." Online Trombone Journal (1999)
Rasmussen, Mary. "Two Early Nineteenth-Century Trombone Virtuosoi: Carl Traugott Queisser and Friedrich Auguste Belcke", Brass Quarterly 5 (1961): pp. 3-17.
Reifsnyder, Robert. "The Paris Conservatory Solos, 1897-1945", ITA Journal 14 (Spring 1986): pp. 44-47.
Reifsnyder, Robert "The Romantic Trombone and Its Place in the German Solo Tradition", ITA Journal 15 (Spring 1987): pp. 20-23; 15 (Summer 1987): pp. 32-37.
Journal of the International Trombone Association/ITA Journal. Numerous other articles.
Wolfinbarger, Steve. "The Solo Trombone Music of Arthur Pryor," Journal of the International Trombone Association 11 (January 1983): pp. 13-15; (April 1983): pp. 27-29; (July 1983): pp. 20-25.