Historical
A Short History of the Trombone
The Tradition of Courtly Extravaganzas
(3.1) Long before the development of the trombone, kings and other nobles used trumpet ensembles to lend majesty and dignity to various ceremonial occasions. For example, whenever a ruler visited one of the towns in his realm, there was an elaborate welcoming ceremony that always included a procession. It has always been hard to have a parade without at least one band! Typically, both the town band and the king's own band, and possibly other freelance musicians, participated in the ceremony. They became more and more elaborate over time.
(3.2) In the middle ages, these events were simply part of The Alta Band Tradition (1.6). In the late fifteenth century, however, old Latin comedies began to be revived in Italy. Rulers there, led by the Medici in Florence, began to use theatrical spectacles in place of the medieval grand entrance. By the middle of the sixteenth century, theatrical extravaganzas were mounted in courts all over Europe; there were not open to the general public as the grand entrances had been, but were reserved for invited high ranking guests. Typically, new plays, usually in five acts were and written for an occasion such as a wedding, that used all the symbolism of ancient Greek and Roman mythology to extol the virtues of the host.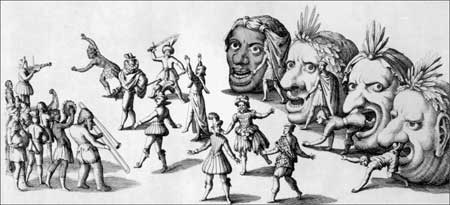 Ballet of Twelve Nations. Performed following the banquet in honor of the baptism of Prince Friedrich von Württemberg in Stuttgart, March 10, 1616.
(3.3) Music, both instrumental and vocal, was performed between the acts of the comedy. At first, it was a mere diversion, but eventually, these intermedii, as they were called in Italy, took on their own plot and symbolic significance. All of the music is still extant from the intermedii performed at the wedding of Duke Cosimo I in 1539 and for an even more elaborate spectacle called La Pellegrina, which was performed at the wedding of Florentine Grand Duke Ferdinand I and Chrisine of Lorraine in 1589. The four intermedii of 1589 comprised 30 separate pieces and used at various times 60 singers and a large collection of instruments, including two cornetts and four trombones.
(3.4) In The Alta Band Tradition (1.6), the cornetts and trombones would have formed an ensemble that always played together, and not with either voices or soft instruments. In the various courtly extravaganzas, the idea was to use a wide variety of combinations of voices and instruments, typically using the entire ensemble for the finale. One piece, still extant, calls for one singer (alto) and four trombones. Others combined one or more trombones with singers and recorders or other soft instruments. From a political standpoint, these combinations made a big, gaudy impression. They were less satisfactory from a musical standpoint. Ercole Bottrigari, who was politically powerful enough to have made the guest list for some of these occasions, condemned the use of stringed and wind instruments in the same ensemble. Because wind instruments were tuned in mean-tone tuning and fretted stringed instruments like viols and lutes were tuned in equal temperament, he claimed that they could not possibly sound good together without inordinate rehearsal.
(3.5) The Tradition of Courtly Extravaganzas was eventually supplanted by The Operatic Tradition (4.1), which spurned the allegorical characters and heavy-handed political symbolism in favor of a more realistic drama that gave opportunity to express real emotion. Perhaps partly because of the objections of musically sensitive critics like Bottrigari, the early operatic orchestras rarely included wind instrument and never included trombones. This was in spite of the fact that violins had supplanted viols as the most important bowed string instrument and that trombones, along with violins, could always play perfectly in tune with any tuning system.
(3.6) Courtly extravaganzas did not immediately disappear with the beginning of opera, however. In fact, the first operatic masterpiece, Monteverdi's Orfeo, itself resembled a courtly extravaganza in the fact that it included a large assortment of instruments. But Monteverdi divided his instruments into two groups, a string ensemble with recorders and continuo for acts I, II, and V and a ensemble of cornetts and trombones for acts III and IV. In 1625, Francesca Caccini's ballet-opera La liberazione di Ruggiero was the theatrical highlight of ceremonies to honor a visiting Polish prince. The instrumentation includes four trombones.
(3.7) But the courtly extravaganza to end all courtly extravaganzas was Antonio Cesti's Il pomo d'oro. Holy Roman Emperor Leopold I planned to marry Margherita of Spain in December 1666 and commissioned Il pomo d'oro for that occasion. For various reasons, it could not be performed at that time. The birth of their son the following September seemed like a good occasion to mount a production, but he soon died. Finally, it was given to honor Margherita's birthday in July 1668. Because it required 23 stage designs, 39 different machines for stage effects, and a full eight hours to perform, the prologue and first two acts were given on one day and the last three acts the next. The trombones, along with every other instrument at court, got quite a workout. After that, the imperial court, along with every other court in Europe, was content to mark special occasions with ordinary operas.
---
The Tradition of Courtly Extravaganzas: Reading List
Bowles, Edmund A. Musical Ensembles in Festival Books, 1500-1800: An Iconographical and Documentary Survey. Ann Arbor, Mich.: UMI Research Press, 1989.
Brown, Howard Mayer. Sixteenth-Century Instrumentation: The Music for the Florentine Intermedii. s.l.: American Institute of Musicology, 1973.
Guion, David M. "Theories of Tuning and Ensemble Practice in Italian Dramatic Music, or, Oh Where, Oh Where Have the Wind Instruments Gone?" Historic Brass Society Journal 12 (2000): pp. 230-43.
Nagler, A. M., Theatre Festivals of the Medici, 1539-1637. New Haven, Conn.: Yale University Press, 1964.
Schmidt, Carl B. "Antonio Cesti's Il pomo d'oro: A Reexamination of a Famous Hapsburg Court Spectacle." Journal of the American Musicological Society 29 (1976): pp. 381-412.