Historical
The Evolution of the Jazz Trombone, Part Two: The Swing Era
This is the second part of a series of articles covering the historical evolution of the jazz trombone from Dixieland jazz to the present day. This article will deal with the trombonists of the period of jazz known as the Swing Era.
Swing
Beginning in the early 1930s jazz reached its most popular era - the Swing Era. Swing differed from Dixieland in several ways. The most obvious difference is the number of musicians performing. While Dixieland bands were small combos consisting of about six to eight musicians, a swing era big band usually had four trumpets, three or four trombones, four or five saxophones, piano, bass, drums, and sometimes a guitar. As with Dixieland, dancing was the primary focus of the music. Another difference in the two styles lies with in the method of performance. In the Swing Era, the majority of the music was arranged previous to the performance, due to the larger nature of the band. A Dixieland ensemble would improvise much if not all of their performance.
Trombonists enjoyed a prominent role in the jazz ensemble of the swing era. Not only was the trombone often featured as a soloist, but many trombonists formed their own bands and built careers on not only their leadership but also their soloistic prowess.
Jack Teagarden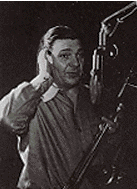 One such trombonist was Jack Teagarden. Teagarden was born in Texas in 1905. He came from a musical family and began playing the trombone early, at the age of 10. After working in local theaters for many years, he started playing with Peck Kelly's group, Peck's Bad Boys, from 1921 to 1922. Teagarden played for five more years in Texas before arriving in New York with a group called the Doc Ross Jazz Bandits. The band broke up almost immediately since they could not find any work, but Teagarden had almost no trouble acquiring jobs with groups run by Wingy Malone, Willard Robinson, Elizabeth Brice, Billy Lustig, and Tommy Gott. In 1928 Teagarden began playing with Ben Pollack - with whom he recorded until 1933. From 1933 to 1938 Teagarden worked for the very popular Paul Whiteman Orchestra. He left Whiteman to lead his own groups and record several albums. In 1947 Teagarden joined forces with Louis Armstrong and "the pair forged one of the great partnerships in jazz." (Case & Britt, 175). The group recorded almost ten albums that are each noted for the incredible rapport between Armstrong and Teagarden (Case & Britt). Teagarden left Armstrong in 1951 to lead his own groups again on tours of Europe in 1957 and Asia in 1958 to 1959. He died in 1964 of bronchial pneumonia.
Teagarden developed a smooth and technical style of playing that surpassed any jazz trombonist before him. His tone was lighter and his attacks smoother. Teagarden moved away from the tailgate style, with its slides and growls, and developed a style which was much more like a trumpet style. He possessed a fluidity that many other trombonists tried to imitate. Teagarden's technique had an enormous influence on trombonists after him. Tommy Dorsey, who was to become one of the most popular trombonists of the swing era, so respected Teagarden's playing that he refused to play a solo while Teagarden was in the same room (Simon, 213)
.
Teagarden, like most swing era horn players, employed a terminal vibrato - vibrato played during the entire note, which he eventually dropped (Collier, 136). He frequently employed rhythmic figures that disregarded the beat, a device he probably imitated from Louis Armstrong (Collier, 136). He also was perhaps the first jazz trombonist to play softly into a microphone, a technique that was later adopted by trombonists such as Carl Fontana and Bill Watrous (Carr, Fairweather & Priestley, 489).
The transcription of Teagarden's solo on "Chics is Wonderful" illustrates many of the stylistic characteristics of Teagarden's technique. He begins the solo with a quote of the melody, which lasts until the second half of measure 3. On beat three of measure 4, Teagarden plays an A natural, which he resolves down to the A flat chord tone in the next beat. Measures 6 and 7 show some of the blues influence on Teagarden - the phrase employs the minor third and major sixth blue notes used by blues musicians. The glissandos in measure 11, as well as the pickup note into the solo, illustrate the influence that Dixieland jazz had on Teagarden. Measure 12 is noteworthy for the passing tone used, F sharp up to G. Teagarden's technique throughout the solo is clean. His use of terminal vibrato throughout is also typical of the style.
In addition to being a well respected trombonist, Teagarden was also a prominent singer. His singing style was in many ways similar to his trombone solos. During his day Teagarden was perhaps the only white male singer of note in the jazz idiom.
Jimmy Harrison
Another trombonist who played both in the early jazz style and the swing style was Jimmy Harrison. Harrison was self taught. Born in 1900, Harrison's early performing experience was with duos and trios in carnival bands, unusual combinations that help to develop his technique. Harrisons' style was geared for speed. He played legato melodic ideas in the high register, almost like a trumpet player; one jazz historian describes Harrison as "very much in the style of Louis Armstrong." (Carr Fairweather, & Priestley, 219).
Harrison was said to be influenced somewhat by Teagarden, and Teagarden by Harrison. The two not only performed together often but were also close friends.
In 1923 Harrison went to New York to find work. After a period of little work in 1927, he was hired by Fletcher Henderson to play in his group - one of the first big bands. Harrison was fired for his poor ability to read music, but then rehired for his outstanding solo ability. In addition to being an excellent trombonist, Harrison was a good showman; he developed a vaudeville-like routine which went back to his carnival performing days. Unfortunately Harrison's career was cut short. In 1931, at the age of thirty, he died of stomach cancer. Even with such a short life, and few recordings, Harrison was a strong influence on trombonists to come after him.
Harrison's style grew out of the black New Orleans tradition. Like Teagarden, Harrison employed a wide, terminal vibrato (Collier, 136). Harrison's tone was brassy, intense, and somewhat narrow (Schuller, 593).
Two trombonists who were directly influenced by Harrison were Dicky Wells and Benny Morton, both of whom played with Harrison in Fletcher Henderson's group. Under the influence of such players as Teagarden and Harrison, trombone soloists were starting to play with fewer glissandos while taking a more trumpet-like approach to soloing.