Historical
The Evolution of the Jazz Trombone: Part Two, The Swing Era
Juan Tizol

Juan Tizol, born in 1900, played the valve trombone. Originally from Puerto Rico, he came to the United States to work with Marie Lucas in 1920. Tizol left Lucas when that band lost its regular engagement and soon found a position with Duke Ellington's band. He wasn't featured in the Duke Ellington Orchestra as often as the other trombonists, but his valve trombone helped Ellington create a new sound. Since Tizol's valve trombone was technically adept, Ellington liked to score Tizol with the saxophones - such as on "Concerto for Cootie". Ellington would also score Tizol on passages that would be extremely difficult, if not impossible, to play on slide trombone, such as quick changes from B flat to B natural in the staff. Tizol, however, did not improvise jazz solos, and his most important contributions were as a section player and as a composer and arranger. He was the composer of "Caravan" and "Perdido" - both big hits for the Ellington Orchestra.
In 1944 Tizol left the Ellington band and performed briefly with Woody Herman's band before being picked up by Harry James. Tizol played with James for seven years, returning to Ellington's band in 1951 for a short period. The rest of his life Tizol worked for many band leaders, including Ellington, James, Frank Sinatra, and Nat "King" Cole. Tizol died in 1984 in Los Angeles.
Joe "Tricky Sam" Nanton

Joe "Tricky Sam" Nanton, 1904-1942, was perhaps the most imitated of Ellington's trombonists. The style that Nanton developed helped give the name "jungle style" to Ellington's early sound. Nanton was one of the first trombonists to use a common toilet plunger as a mute - a device he reportedly emulated from a trumpet player named Johnny Dunn (Dietrich, 22). His highly developed skill with a plunger mute was said to imitate the human voice. Mercer Ellington, the son of Duke Ellington and leader of the Ellington Orchestra after Duke's death, said of Nanton: "Tricky had a perfect feeling for it [the plunger] and he could play the proper things to fit the plunger." (Carr, Fairweather, & Priestly, 359) Many of the sounds that Nanton was able to achieve with the plunger are still a mystery. It may be that some of the effects were produced partly by tongue and jaw positions as well as mutes and plunger positions (Carr, Fairweather, & Priestly, 24).
The harmonic, melodic, and rhythmic style of Nanton was steeped in the blues. Quite often Nanton's solos consisted of only a few notes that were played with such rhythmic and melodic conviction that the solo carried on the weight of this confidence alone. Early jazz critic Hugh Panassie commented that Nanton "needs only to play two or three notes with his inimitable expression and repeat them during the whole chorus to move the listener deeply."(Carr, Fairweather, & Priestly, 39).
Nanton started his professional career playing with pianist Cliff Jackson in 1921 and then worked with Earl Frazier's Harmony Five from 1923 to 1925. He began working with the Ellington Orchestra from 1925 and stayed with the band until he suffered a stroke in 1945. After a brief recovery period, he rejoined Ellington only to die during a tour of the West Coast in 1946. His death resulted in the loss of one of the most unique voices in Ellington's group and all of jazz.
Tommy Dorsey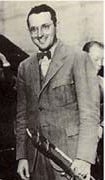 One of the most popular trombonists of the swing era was Tommy Dorsey (1905-1956), called the Sentimental Gentleman of Swing. Dorsey began his career with the Paul Whiteman Orchestra in 1927. In 1934 he formed a band with his saxophone-playing brother Jimmy, resulting in the Dorsey Brothers Orchestra. The band did not stay together long. Tommy Dorsey's temper led to frequent fights not only with his brother, but also with many of his sidemen. In 1935 he formed his own group; the Tommy Dorsey Orchestra. Due in large part to Dorsey's perfectionist nature and his desire to acquire the best musicians for his group, the Tommy Dorsey orchestra was an enormous success. Many of the band's greatest hits included solos by Dorsey, such as "I'm Getting Sentimental Over You," "Song of India," and "Marie." Many notable musicians were alumni of Dorsey's band, including Bud Freeman, Pee Wee Erwin, and Frank Sinatra.
As a soloist, Dorsey popularized a school of high register ballad playing started by Teagarden and Harrison. Although his ideas were not as creative as his influences, his technical command of the instrument made him one of the most popular trombonists of the swing era. One historian said of Dorsey's technique: "[Dorsey was] technically unfaultable: he invented a smooth-as-silk upper register ability which was revolutionary for its time." (Carr, Fairweather, & Priestly, 143) This technical approach was later taken up by trombonists such as Urbie Green and Bill Watrous.
Trummy Young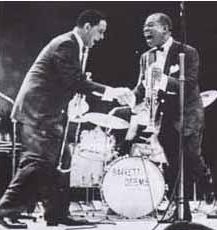 Photograph by Martin J. Dain.
Trummy Young, born in 1912 in Washington, was an underrated but influential trombonist. Young started playing professionally in 1928. By 1933 he was playing with Earl Hines, with whom he worked for four years. From 1938 to 1943 he played in the Jimmie Lunceford Orchestra. He left that group to lead his own band, which he did until 1947. In 1952 he began to perform in Louis Armstrong's band, where he stayed for thirteen years. After leaving Armstrong he moved to Hawaii and performed locally until he died of a heart attack in 1984.
Young cited two of his influences as Louis Armstrong and Jimmy Harrison. He said once, "I worked hard on . . . a sharper, brilliant sound." (Carr, Fairweather, & Priestly, 556) His solos were very energetic, often mistaken for a trumpet solo, since he possessed an incredible high register. His ballad playing also rivaled the romantic ballad solos of Tommy Dorsey.
Transition into Bebop: Bill Harris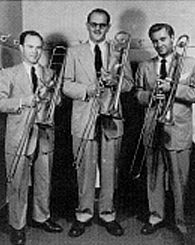 Bill Harris, pictured center to the right, is noted as a transitional figure between swing and the next style period of jazz, bebop. Born in 1916, Harris is best known as the featured trombone soloist with Woody Herman's big band, off and on from 1944 to 1959. He also co-led groups with Charlie Ventura and Chubby Jackson. Harris died in 1973.
Although Harris' style was a swing era approach, he was one of the first trombonists to acquire the technical command of the trombone that allowed him to play in the breakneck tempos associated with bebop. Harris constantly surprised the listener with his variety of stylistic attributes. He was fond of varying his articulations between legato and staccato and playing first simply and then more complex. His use of vibrato also differed between the terminal vibrato - used by most swing era horn players - and a straight tone as well as combinations of the two. Harris also had an irrepressible sense of humor that showed not only in his soloing but in the way he performed as well. One story tells of an effect that left his leader mystified:
When he was on Woody Herman's band, Harris had a little right-angle crook of tubing made to fit between his mouthpiece and his trombone. One night on his way to the front mike to take a solo, Bill surreptitiously slipped the crook onto his horn. This allowed him to play with his horn at right angles to its normal position. When Bill finished his solo he put the crook back into his pocket. Woody had been standing behind Bill where he couldn't see the gimmick, and he couldn't figure out how Bill managed to play with his slide pumping sideways.

Bill told section mate Eddie Bert that he wanted to have these crooks made for the whole trombone section. "Then we could spell out dirty words with the slides while we play." (Crow, 167)
It is very difficult to typify Harris' style. Harris would play each solo differently, depending on the piece and his mood. His solos varied from romantic to flamboyant.
And there are others. . .
Since the Swing Era was the most popular period of jazz and most big bands utilized three to five trombonists, many important and influential trombonists who deserve mention are left out of this article. Some other important trombonists include Bobby Byrne, J. C. Higgenbotham, Will Bradley, Vic Dickenson, Sandy Williams, Glen Miller, and Claude Jones. Many more trombonists warrant mention, but due to the scope of this article, they have been left out. Readers who are interested in learning more are referred to the annotated bibliography.
This concludes this installment of articles covering the historical evolution of the jazz trombone. The next article will deal with the Bebop Era and the important trombonists who played in the Bebop style.