Historical
The Evolution of the Jazz Trombone: Part Two, The Swing Era
Dicky Wells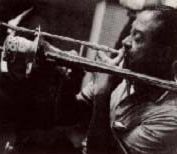 Wells, who was born in 1907 and died in 1985, eventually moved away from Harrison's influence and developed a style all his own. His was an almost comedic style of playing "full of blase yawns, dismissive grunts and sudden yelps of surprise." (Carr, Fairweather, & Priestly). Wells was fond of employing glissandos and growls during a period in jazz history when trombonists were moving away from these effects used by Dixieland trombonists. His tone has been described as "rugged, warm, and full." (Collier, 276).
Wells' bombastic style earned him work in several prominent New York bands, including Fletcher Henderson, Lloyd Scott, Benny Carter, and Charlie Johnson. In 1938 Wells began an eight-year period working with the Count Basie Orchestra. He left Basie in 1959 to work with Lucky Millinder and Sy Oliver. Wells began to slow down after leaving Basie, primarily due to his alcohol problems. In 1965 he quit music and took a day job on Wall Street. He stayed out of music until 1973, when his autobiography was published, providing him the opportunity to play again. He continued to work sporadically until his death in 1985.
Benny Morton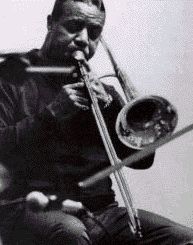 Benny Morton received his music education playing in the Jenkin's Orphanage Band. His early influences included church music and Dope Andrews, the trombone soloist with Mamie Smith's band. Morton's first break came in 1923 when he was hired by Clarence Holiday. In 1926 Morton started working with Fletcher Henderson where he collaborated with Jimmy Harrison. In addition to performing with Henderson, Morton spent six years playing for Don Redman and three years with Count Basie. In the 1940s Morton was employed by Teddy Wilson and Ed Hall while also leading his own band. When he was not playing jazz Morton worked as a pit musician for many Broadway musicals. Morton died in 1985. He was called by one jazz historian "one of the most sophisticated trombonists of the swing era." (Carr, Fairweather, & Priestly).
Morton was highly regarded as a soloist. During his day he was one of a few soloists who employed chromatic passing tones, notes that did not fit in the diatonic scale (Schuller, 624-5).. He had a legato style, employed a terminal vibrato, and was technically deft (Collier, 401, 275).. Morton's phrases were usually sparse; he was fond of using fewer notes to say more (Collier, 275).
The Duke Ellington Orchestra
One of the most influential and successful bands in jazz got its start during the Swing Era - the Duke Ellington Orchestra. The three trombonists who played in this group for most of their careers were Lawrence Brown, Juan Tizol, and Joe "Tricky Sam" Nanton. These three trombonists each had their own individual style and, according to Gunther Schuller, could "cover any possible stylistic approach to the trombone," yet also, "blend chameleon-like into a single sonority." (Schuller, 47). Performing in Ellington's band made Brown, Tizol, and Nanton enormously influential. Each of their distinct styles and tonal colors were utilized the fullest by Ellington.
Lawrence Brown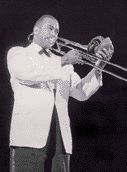 Lawrence Brown was born in 1907 in Kansas. He began his career with Charlie Echols and Paul Howard. In 1932 he joined Duke Ellington. His great technical command of the instrument, with its "creamy tone, neurotic vibrato and range" was featured with Ellington's band every year in compositions such as "Blue Cellophane" and "Golden Cress," (Carr, Fairweather, & Priestly). Brown left Ellington's band in 1951 to join a band led by ex-Ellington sideman Johnny Hodges, where he stayed until 1955. After leaving Hodges, Brown took a position for CBS playing studio sessions for five years. Brown rejoined Ellington in 1960 and stayed with him until 1970. After leaving Ellington's band Brown quit performing for good. He died in Los Angeles on September 5, 1988.
Brown fulfilled many roles in the Ellington Orchestra - as a balladeer, technical soloist, and section leader. His highly melodic ballad playing as well as his fast technical style inspired trombonists from Tommy Dorsey to Bill Harris. Trombonist Quentin Jackson said of Brown, "Nobody ever heard a trombone player like that. I never heard nothing [sic] so fast. I never heard a trombone player like that, not like Lawrence was playing in those days." (Dietrich, 74)
Ellington admired Brown's soloing ability, but reserved his highest complements for Brown's manner of playing behind a vocalist, calling Brown an "accompanist par excellence." (Dietrich, 78).