Historical
The Evolution of the Jazz Trombone, Part Three: Bebop
Introduction
In the early 1940's a new style of jazz began to develop. This style, which became known as Bebop, slowly broke away from Swing and began to emerge as a completely separate entity. Prior to Bebop, jazz styles were performed for dancing. With the emergence of Bebop, jazz was written and performed for its own sake.
Bebop differs from Swing in several respects. The most obvious difference is in the size of the group. Bebop ensembles were small combos, as opposed to big bands. Reasons for this include: economical concerns--it is cheaper to pay a smaller band, and population changes--with the army drafting so many men to fight in World War II it became difficult to fill a big band with good players. In addition, many jazz musicians wanted to play with more freedom than a big band format would allow. The average Bebop group usually consisted of piano, bass, and drums for a rhythm section, and one or two horns such as a trumpet, saxophone, or trombone.
Tempos of Bebop tunes are either very fast--showing off the virtuosity of the Bebop improvisers, or very slow--allowing the soloists to play fast "double-time" passages. The melodic lines are fast and highly ornamented with "creation of interest by means of melodic and rhythmic discontinuity." (Bourgois, 1986, p. 10) Bebop musicians often took the chord progressions from Swing tunes and composed new melodies, often embellishing the original changes. This practice not only makes the music more interesting, but also discourages the weaker musicians from sitting in.
The pioneers of the Bebop style were alto saxophonist Charlie Parker and trumpeter Dizzy Gillespie. Both Parker and Gillespie began their careers playing in Swing big bands before playing together in the 1940s in New York. Utilizing their technical command of their instruments, Parker and Gillespie influenced virtually every Bebop musician with their mastery of improvisation.
Because of the extremely fast lines found in Bebop, it seemed impossible to play in this style on the slide trombone. Some trombonists began to play the valve trombone in order to play the difficult lines. However, the most accomplished trombonists of Bebop learned to work with the slide and pushed forward the technical limits of the trombone. By the 1950's trombonists had once again secured their position as innovators of jazz, and continued to pioneer new trends in music.
It is difficult to classify trombonists in terms of style due to the fact that many trombonists performed in more than one style. In fact, many trombonists continue to perform in the Bebop style today. The trombonists mentioned in this article were selected for chronological reasons, as well as stylistic considerations.
All of the following solo transcriptions are based on a blues progression. By looking closely at how different musicians play over the same chord progression it is possible to gain insights into each musician's individual style.
Bennie Green
Trombonist Bennie Green was perhaps the first trombonist to play in the Bebop style. Growing out of the Swing tradition, he combined some of the harmonic innovations of Bebop with Swing era phrasing.
Born in 1923, Green's first major job was with Earl Hines at the age of 19. Green played with Hines' band several times during his career, including the 1942-43 Hine's Orchestra that included Charlie Parker and Dizzy Gillespie. He played with Charlie Ventura between 1948 and 1949. Duke Ellington hired Green in 1969, and after leaving Ellington's band, Green made his living playing in Las Vegas hotel bands. He died in 1977.
Green possessed a warm and smooth tone. His influences included Parker, Gillespie, Lester Young, and Dickie Wills. Noted jazz historian Leonard Feather called Bennie a "modern Benny Morton." (Gilter, 1961, p. 1). Ira Gitler stated that Green's tone is reminiscent of Lawrence Brown. (Gilter, 1961, p. 1)
This solo transcription of Green's solo on the blues Gliding' Along demonstrates how Green utilized some of the rhythmic devices associated with Bebop, while still employing the phrasing and articulations of the Swing Era. He employed some of the glissandi and vibrato that earlier Swing trombonists used, but also used some of the harmonic and rhythmic language of Bebop. The Bebop-influenced double-time passages in measures 5-6 and measure 9 show off Green's technique. The lick in measure 9 also displays a harmonic device used frequently by Bebop improvisers, a dominant-seventh chord with a flatted ninth.

This harmonic technique was probably influenced by alto saxophonist Charlie Parker, who frequently played flatted ninths over dominant chords--particularly when the chord progression moved from the dominant-seventh chord to a minor chord a perfect fifth below (V7-i, or in the Green example, V7/ii-ii7). The example below is from Parker's improvisation over his composition Au Privave, also a blues in the key of F.
J. J. Johnson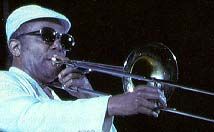 The most important figure in modern jazz trombone was J. J. Johnson. Johnson, born in 1924 in Indianapolis, discovered his musical talent early. By the age of eighteen he was performing with Benny Carter. In 1945 Count Basie was looking for a new sound in his trombone section, and Johnson stepped in to fill the position until 1946. It was in this band that Johnson played with Dickie Wells, who was to become a strong influence on his playing.
After playing with Basie, the allure of the new music being played by Charlie Parker and Dizzy Gillespie prompted Johnson to remain in New York. There he absorbed the music of Parker and Gillespie while working on his own style. Johnson received encouragement from Parker and Gillespie to continue to develop his ability to play Bebop. Johnson talked of one encounter with Gillespie that occurred while he was practicing the new music.
Johnson successfully took the influence of Parker and Gillespie and adapted the melodic lines for the trombone, rather than trying to adapt the trombone for Bebop. While his solos lacked the harmonic and melodic complexity of a saxophonist or trumpet player, he managed keep up with the fast tempos that Bebop required. His speed was so revolutionary for its time that when many trombonists heard Johnson on record they were convinced that he was playing a valve trombone. His staccato approach to playing fast is said to be influenced by trombonist Fred Beckett from Lionel Hampton's band. (Carr, Fairweather, and Priestley, 1988, p. 264)
Johnson's style was revolutionary for qualities other than speed. Unlike trombonists before him, Johnson rarely used vibrato, and when vibrato was employed it was narrower and more subtle than the Swing trombonists used. His sound was very smooth and consistent throughout the entire range of the horn. Unlike many of the Swing trombonists, Johnson avoided glissandi and growls. Where Swing trombonists preferred to use the plunger mute, Johnson's favorite mute was the cup mute, which better complimented his smoother, more mellow tone.
Johnson played one recording with Parker on a session for Dial on December 17, 1947, and went on to perform with him in clubs frequently. Johnson played with Dizzy Gillespie's band in 1949 and again in 1951. By this time Johnson's position as the best Bebop trombonist was secured, yet he still had trouble finding work. In 1952 he took a job as a blueprint inspector until musical work became more steady.
In 1954 Johnson teamed up with fellow Bebop trombonist Kai Winding to form the Jay and Kai Quintet, a group that would bring both Johnson and Winding critical and commercial success. The Jay and Kai Quintet was expected to be a dull group, where both the horns were the same and would lack contrast, but the two trombonists utilized mutes and small arrangements so creatively that they were able to use the two trombone front line-up to their advantage.
Johnson and Winding began working together in August of 1954 in Philadelphia. In early 1955 the group had their first hit seller, the standard That's All Right With Me. Following the success of this recording, the group started to work together full time. Over the next fourteen months Johnson and Winding performed and recorded together in groups that varied in size from two to eight trombones and a rhythm section. In 1956 Johnson and Winding disbanded the group to pursue solo projects, although the two reunited several times to record other albums.
From 1956 to 1960 Johnson primarily led his own groups. In 1961 he played for a year with Miles Davis. He continued to perform until 1970, when he moved to Los Angeles to score music for films and television. In the mid-1980s he began performing again, and to this day is still considered one of the finest jazz trombone players around.
Johnson's style is characterized by melodic simplicity, rhythmic precision, and light vibrato used as an occasional ornament. (Owens, 1995, p. 195) His technical command of the trombone is outstanding, particularly his speed. Johnson stated that, "There was a time in my life, in the mid-1940s, when my aim was to play as fast as physically possible on the trombone." (Bourgois, 1961, p. 9) His upper register and stamina were also revolutionary for his time.
A transcription of Johnson's solo on the blues tune Stratusphunk, composed by George Russell, shows many of important elements of Johnson's style. The most noticeable difference in Johnson's style from earlier trombonists is Johnson's abandonment of the glissandi and growls frequently used by Swing Era trombonists.
Noteworthy features of this solo include Johnson's use of space, particularly in the second chorus. Johnson quotes George Gershwin's composition Rhapsody in Blue in measures 38-39. Even though Johnson is capable of playing very quickly and cleanly, which he demonstrates in the first chorus and several other times during the solo, he frequently plays entire phrases consisting of mostly quarter notes.
Kai Winding
Danish trombonist Kai Winding, often mistaken for Johnson on recordings, was considered to be the finest Bebop trombonist after Johnson. Like Johnson, Winding was capable of playing the fast lines of Bebop. However, Winding's tone was a bit rougher than Johnson's, and unlike Johnson, Winding retained more of the influence of the Swing trombonists in his phrasing.
Winding, who was born in 1922, immigrated with his family to the United States from Denmark when he was twelve. His first musical job of major importance was with the Stan Kenton Orchestra. Winding played with Kenton from 1946 to 1947, later working with Charlie Ventura and Todd Dameron.
Johnson and Winding teamed up for the popular Jay and Kai Quintet in 1954 to 1956. In 1956 Winding led his own septet, which included four trombones and a rhythm section. In the 1960s he became the musical director for the Playboy Club. In the early 1970s he went on two world tours with the Giants of Jazz, an all-star band that included Bebop pioneer Dizzy Gillespie. In 1979 he performed with Lionel Hampton, and in 1980 he co-led a two-trombone group with Curtis Fuller. Winding died in 1983.
The included solo transcription of two choruses of the blues composition "Wee Dot (Blues For Some Bones)," helps to show elements of Winding's style. Throughout the solo Winding employs isolated triplet figures, a device which he used frequently. Measures 5, 14, and 23 are examples of this device. Winding played the F in a sharp fourth position, which allowed him to cleanly articulate the triplet without tonguing all of the notes.
Winding plays a flatted ninth in measure 9, showing Parker's harmonic influence. Winding's technique is flawless and his tone has a slightly rough edge to it, which contrasts with Johnson's smooth tone.

Frank Rosolino

Having a most unique approach to playing BeBop on the trombone, Frank Rosolino was able to achieve an original, easily identifiable sound. In addition to effectively using alternate positions, Rosolino developed the ability to change harmonic partials on the trombone very quickly, allowing him to play as fast as a saxophonist. This technique has been called either "lip breaks" or playing "against the grain." In addition to possessing almost unparalleled speed on the slide trombone, Rosolino had a strong upper register and a bright tone. He often played with a fire that became the model for trombonists who wanted to play in this hot, energetic style.
Rosolino's professional career started at the age of 18 while he served in the U.S. Army, performing with the 86th Division Band. After his release he went on to play with Gene Krupa's Bebop-influenced big band from 1948 to 1949, where he performed with them under the stage name Frankie Ross. His most well known job was with the Stan Kenton Orchestra, where he played from 1952 to 1954 as the featured trombone soloist. It was with Kenton that Rosolino gained recognition as a soloist without equal.
Rosolino continued to record with Kenton into 1955, as well as with the Howard Rumsey Lighthouse All Stars. He joined the Terry Gibbs Dream Band in 1959 and performed with that group off and on until 1962. He also performed in Donn Tremmer's House Band on the Steve Allen Show, where he was not only featured as a trombone soloist, but also as a comedian. From 1973 to 1975 Rosolino participated in a number of world tours with Conti Candoli, Quincy Jones, Benny Carter, and the group Supersax.
The below embedded video is a performance by the Frank Rosolino Quartet from a 1962 live television broadcast of Jazz Scene, USA. This performance is an excellent example of Rosolino's improvisational abilities, command of the trombone, and sense of humor.
During most of his career Rosolino was based out of Los Angeles where he did quite a bit of session work for movies and television. Throughout his career Rosolino performed with many groups as a featured soloist, including Tutti's Trombones, The Trombones Inc., Zoot Sims, Dexter Gordon, Carl Fontana, and the Airmen of Note.
Rosolino was not only known as a trombone soloist, but also as a singer and comedian. Rosolino's scat singing utilized the same energy and creative ideas as his trombone playing. As a comedian, he was always performing. Trumpeter Bobby Shew recalls that Rosolino was a source of entertainment on long studio sessions. "Some of us used to 'goad him on,' just to get him started. It always ended up in complete hilarity and 'good vibes' amongst everyone who was lucky enough to be around him."(Herwig, 1996, p. 25).
Trombonist Jiggs Whigham tells another story.
My favorite "Frank" story took place in Oldenburg, Germany. We were on tour with an "All Star" lineup including Clark Terry, Art Farmer, Herb Gelled, Don Mensa, and so on. The concert took place at a made over water pumping station. . . strange to begin with! In any case after the concert had come to an end, Frank and I discovered a room upstairs filled with boxes and boxes of chocolate covered marshmallows. War was declared! Us against them! We proceeded to bombard the remaining members of the audience (and band) with our chocolate bombs, pausing in between to eat some and throw some at each other. It was a beautiful moment. (Herwig, 1996, p. 77)
This transcription of Rosolino's solo on "Now's the Time," with the group Supersax, demonstrates his style and technical mastery. His creative fire and energy are pervasive throughout the entire solo. Examples of "against the grain" playing can be found throughout the excerpt, as in measures 13-14.

And there are others, of course.
Although these exemplary trombonists were discussed for their importance to Bebop, many other significant trombonists have not been mentioned. Some of them, such as Carl Fontana and Curtis Fuller, will be discussed in a later article. Others, such as Willie Dennis, Melba Liston, Al Grey, Milt Bernhart, and Eddie Bert all deserve mention as excellent Bebop trombone soloists.