OTJ Authors
David Vining
Trombonist David Vining is the founder and co-owner of Mountain Peak Music, a publishing company devoted to offering innovative, healthy teaching methods for all musicians. Mountain Peak Music represents Mr. Vining's personal mission, combining his extensive performing and teaching background with insights learned through his remarkable recovery from embouchure dystonia. His Mountain Peak Music publications include the Breathing Book series, Daily Routines, Cross Training for Musicians, Teaching Brass, and Rangesongs, to name a few.
Currently Professor of Trombone at Northern Arizona University in Flagstaff, Arizona, Mr. Vining has also served on the faculties of the University of Cincinnati's College-Conservatory of Music and the University of Kansas. Professor Vining's teaching transcends his trombone specialty, covering a wide range of topics appealing to musicians of every discipline. He is equally at home teaching trombone technique, helping instrumentalists and vocalists become more efficient, and helping musicians cope with injuries, among other topics.
Mr. Vining is a dynamic performer who has delivered hundreds of recitals nationwide. As trombonist with the Chestnut Brass Company, he recorded several CDs and toured the United States and Europe performing recitals, masterclasses, and concerts with orchestras. Currently a member of the Flagstaff Symphony, he has performed with the Cincinnati Symphony, Kansas City Symphony and the Philadelphia Orchestra. Mr. Vining has appeared on college campuses coast-to-coast in recital and as a guest soloist with ensembles, and recorded a solo CD, Arrows of Time.
OTJ Reviews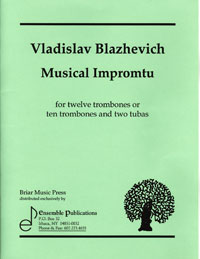 By
David Vining
• August 25, 2004
Musical Impromtu
, by Vladislav Blazhevich, is a short work scored for 12 trombones. This piece is in Blazhevich's typical style of composition and its melodies could easily have come from the
Clef Studies
. It is charming and clever in that it offers a great deal of musical variety in a very short time span.
By
David Vining
• May 28, 2003
This composition lasts about 4 minutes and is composed in ABA form.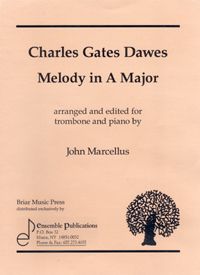 By
David Vining
• May 28, 2003
This wistful melody was originally written for violin and found its way into the repertoire of none other than Fritz Kreisler. The tune is a simple ABA form in slow 6/8 time with an eighth note pulse throughout and is 41 measures long.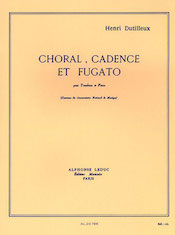 By
David Vining
• February 10, 2003
Composed for the French pedagogue Andre LaFosse,
Choral, Cadence et Fugato
has appeared on required lists for various solo competitions over the years but has not found its way into the mainstream of trombone recital programming. It is a well crafted virtuosic piece from the French repertoire deserving of more attention from trombonists looking for something substantial to include on a recital.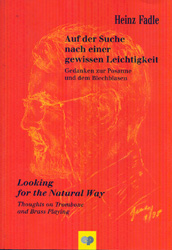 By
David Vining
• April 08, 2002
This is a valuable and entertaining book which should be added to all serious brass musicians' "required reading" list.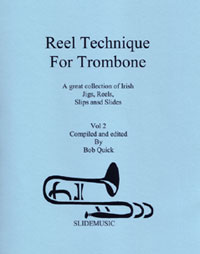 By
David Vining
• March 11, 2002
A thoughtful approach will be needed to preserve the integrity of the original tunes within the context of a reasonable tempo and good musicianship.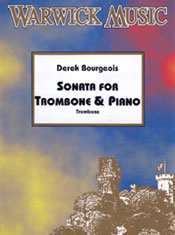 By
David Vining
• March 11, 2002
This is an epic work, spanning three octaves and lasting some twenty minutes with many changes in mood and style.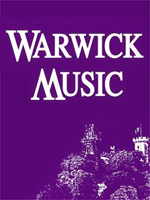 By
David Vining
• September 07, 2001
These two unaccompanied offerings from Warwick Music were composed for the Repton Brass Festival 2001 and represent two distinct compositional styles. As always, Warwick's spiral bound editions are beautifully presented and strikingly attractive.