Literature
A Witch's Spell and Animado: A Review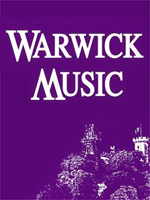 Duncan, Andrew. A Witches Spell, for solo trombone. Warwick, England: Warwick House, 2000.
Nightingale, Mark.
Animando
, for solo trombone. Warwick, England: Warwick House, 2000.
These two unaccompanied offerings from Warwick Music were composed for the Repton Brass Festival 2001 and represent two distinct compositional styles. As always, Warwick's spiral bound editions are beautifully presented and strikingly attractive.
A Witches Spell is a single movement approximately 6 minutes in length in a slow - fast format. While there is no explanation offered for the title, perhaps it is derived from the pensive (spooky?) angular interval structure used in the slow first section. The same interval structure is used in the fast second half, which takes on a rather "twisted waltz" feel reminiscent of goblins on broomsticks. The entire work is in tenor clef and the range spans from pedal A to c2 with an optional d2. There are difficult wide intervals throughout, which, combined with the challenging range, make this piece most appropriate for accomplished college-aged musicians. The pacing of this piece is good, with ample opportunity for expressive lyrical playing in the first half balanced by some challenging interval work in the fast part. Duncan is a fine craftsman and A Witches Spell is a nice addition to the unaccompanied repertoire.
Animando is in three short movements, each of which is based upon a unique central theme. The first movement is labeled Lento rubato, Quasi recitative and uses the harmonic series throughout (shades of Serocki?). A good deal of rubato is necessary to make this movement work, and for this reason it may be a good tool for teaching interpretation. The muted second movement is a moderate dance with a playful quality which reminds one of a British folk song. Movement three is marked Scherzando" quarter note = 108+ and utilizes a chromatic jazz lick throughout. Taken fast enough, this movement would work with a doodle tongue and could be interpreted in a "bop" jazz style. All three movements are written in bass clef creating an inordinate number of ledger lines above the staff which can be difficult to read. Like A Witches Spell, this piece requires an accomplished college-aged trombonist because the range spans pedal B-flat to d-flat2, the second movement requires triple tongue and the interval structure is somewhat tricky. Since the three movements together last only about 6 minutes, part of the challenge in performing this piece is to create and maintain momentum because it seems as if each movement ends before it has had a chance to fully develop. Despite this quality (or perhaps because of it), the music has a delightful engaging character that leaves one wanting more - a sign of a good composition. Trombonists will appreciate Nightingale's feel for the instrument; this is a work written for trombonists by a trombonist.
Both of these pieces join a host of other unaccompanied selections which don't necessarily blaze new trails so much as offer amusement and a bit of whimsy in the form of short recital selections.