Literature
The One Hundred: Essential Works for the Symphonic Tenor Trombonist: A Review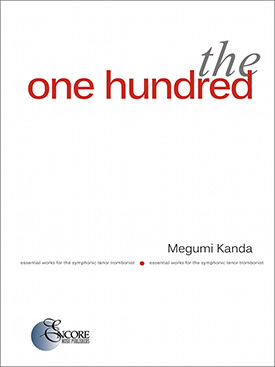 Kanda, Megumi. The One Hundred: Essential Works for the Symphonic Tenor Trombonist, Second Edition. Encore Music Publishers, Maple City, MI, 2020. 184 pages, spiral bound. ISBN 978-1-63684-616-3.
This is an excellent collection of over 300 orchestral excerpts spanning 100 compositions, including some hard-to-obtain non-public domain repertoire (Figure 1). As with the first edition and its Japanese-language counterpart, Megumi Kanda's compilation includes performance and preparation advice. One of the strengths of this work is the identification of publication errors and providing corrected version in the excerpts. An example of the writing style, design layout, and music examples are shown in Figures 2-3.
Kanda's meticulous music engravings are augmented with composer biographical information penned by Charles "Chaz" Greenwell (1941 - 2020) and Byron Hanson (1942 - 2021); readily sharing their careers of brass and trombone-centric wisdom through their engaging narratives, such as for Charles-Camille Saint-Saäns and his third symphony: Trombonists are fortunate to have this unique cantabile in their repertoire, but also for the splendid Cavatina written by the composer who even in his 80th year followed precisely the recommendations of Berlioz: writing only the three pedal tones Berlioz recommended, approaching them only from the octave or fifth above, and providing the optional A♭ in place of the final high D♭, a pitch which Berlioz had labeled "Trés difficile!" (p.127). Imbuing these excerpts with such narratives are a fitting continuation of Greenwell and Hanson's legacies to broader audiences; a fine editorial decision of Encore Music Publishers to incorporate throughout their One Hundreds series, including this and those volumes for the Bass Trombone and Tuba.
The variety of excerpts with parts for full trombone section and occasional tuba enhance the works value for use in excerpts reading sessions. Kanda's collection is a strategic addition to your orchestral trombone library, augmenting the likes of Keith Brown, Ralph Sauer, Gordon Cherry, and Seth T. Vatt. For those wanting to learn more of Kanda's studio teaching, see Mike Lomas' review of Trombone Unlimited and for those interested in Encore Music Publishers bass trombone-focused guide to orchestral excerpts, see Donn Schaefer's review of Douglas Yeo's The One Hundred: Essential Works for the Symphonic Bass Trombonist.
Bach - Christ lag in Todes Banden, BWV 4
Bartók - Concerto for Orchestra, Sz. 116; Der Wunderbare Mandarin, op. 19
Beethoven - Symphony no 1 in C minor, op. 67; Missa solemnis in D major, op. 123; Symphony no. 9 in D minor, op. 125
Berg - Drei Orchesterstücke, op. 6; Lulu (Suite); Wozzeck, op. 7
Berlioz - La damnation de Faust, op. 24; Le carnaval romain, Ouverture pour orchestre, op. 9; Roméo et Juliette, op. 17; Symphonie fantastique, op. 14; Grand ouverture du roi Lear, op. 4
Borodin - Polovtsian Dances from "Prince Igor"
Brahms - Symphony no 1 in C minor, op. 68; Symphony no. 2 in D major, op. 73; Symphony no. 3 in F major, op. 90; Symphony no. 4 in E minor, op. 98; Tragische Ourvertüre, op. 81
Britten - Four Sea Interludes from "Peter Grimes," op. 33a
Bruckner - Symphony no. 4 in E♭ major, WAB 104; Symphony no. 6 in A major, WAB 106; Symphony no. 7 in E major, WAB 107; Symphony no. 8 in C minor, WAB 108; Symphony no. 9 in D minor, WAB 109
Copland - Appalachian Spring; Rodeo; Symphony no. 3
Dvořák - Symphony no. 9 in E minor, op. 95
Elgar - Cockaigne Overture
Grofé - Grand Canyon Suite
Hindemith - Konzertmusik for Brass and String Orchestra, op. 50; Symphonic Metamorphosis; Symphony: Mathis der Maler
Holst - The Planets, op. 32
Janáček - Sinfonietta, op. 60
Kodály - Háry János Suite, op. 15
Liszt - Hungarian Rhapsody no. 2, S.244/2
Mahler - Symphony no. 2 in C minor; Symphony no. 3 in D minor; Symphony no. 5 in C-sharp minor; Symphony no. 6 in A minor; Symphony no. 9 in D major
Milhaud - La creátion du monde, op. 81a
Mozart - Die Zauberflöte, K 620; Große Messe in c-Moll, K 427/417a; Requiem in D minor, K 626
Nielsen - Symphony no. 2 "De fire Temperamenter", op. 16
Prokofiev - The love of three oranges, (suite), op. 33bis; Romeo and Juliet suites 1 & 2, op. 64bis, op. 64ter; Symphony no. 7 in C♯ minor, op. 131
Ravel - Boléro, M. 81; Daphnis et Chloé, M. 57; Piano concerto for the left hand, M. 82; L'enfant et les sortiléges, M. 71
Respighi - Feste Romane, P. 157; Fontane di Roma, P. 106; Pini di Roma, P. 141
Revueltas - Sensemayá
Rimsky-Korsakov - Russian Easter Festival Overture op. 36; Scheherazade, op. 35
Rossini - La gazza ladra: Overture; Guillaume Tell: Overture
Saint-Saëns - Symphony no. 3 in C minor, op. 78
Schubert - Symphony no. 9 in C major, D. 944; Mass no. 5 in A♭ major, D. 678
Schumann - Symphony no. 2 in C major, op. 61; Symphony no. 3 in E♭ major, op. 97; Symphony no. 4 in D minor, op. 120
Shostakovich - Symphony no. 4 in C minor, op. 43; Symphony no. 5 in D minor, op. 47, Symphony no. 9 in E♭ major, op. 70; Symphony no. 15 in A major, op. 141
Sibelius - Symphony no. 7 in C major, op. 105
Strauss - Eine Alpensinfonie, op. 64; Also sprach Zarathustra, op. 30; Tod und Verklärung, op. 24; Sinfonische Fantasie aus 'Die Frau ohne Schatten' TrV 234a; Symphonia Domestica, op. 53 ; Till Eulenspiegels lustige Streiche, op. 28; Ein Heldeleben, op. 40
Stravinsky - L'oiseau de feu; L'Histoire du soldat; Pulcinella suite; Symphony of Psalms
Tchaikovsky - Francesca da Rimini, op. 32; Symphony no. 4 in F minor, op. 36; Symphony no. 5 in E minor, op. 64; Symphony no. 6 in B minor, op. 74
Thomas - Hamlet
Verdi - La forza del destino: Overture; Nabucco: Overture; Otello
Wagner - Der fliegende Holländer, WWV 63; Lohengrin, WWV 75; Die Meistersinger von Nürnberg, WWV 96; Tannhäuser, WWV 70; Die Walküre, WWV 86b
Weinberger - Švanda dudák