Recordings
Live at Barbes: A Review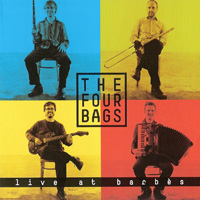 The Four Bags: Live at Barbes. Personnel: Brian Drye (trombone), Jacob Garchik (accordion), Sean Moran (electric guitar), and Michael McGinnis (soprano sax, clarinet, and bass clarinet). Selections: Tent Song (McGinnis); Pins/Needles (M. Glassmeyer); Rainfall (L. Phillippe); The, The Cheat (Drye); Lied (Ohne Worte) from the Serenade Op. 24 (A. Schoenberg); Sanfonando (L. Gonzaga); Iowa Requiem (McGinnis); Accordion Tune (Garchik); The Fall (Moran); Ok James (Drye); Not Titled (Garchik); Valley Song (McGinnis)
My first thought upon putting Live at Barbes in my CD player was, "this sounds like fun." It sounds like the musicians are having fun, and I am sure the audience was having fun. That is not to say that The Four Bags are not serious musicians or artists. They are just wise enough not to take themselves too seriously.
The promotional material printed by The Four Bags record label says "File under: Jazz." That is a bit misleading. There is a lot more than Miles, Trane, and JJ informing this music. It is instrumental music and includes improvisation, so I guess it goes in the Jazz category in the record store. I hear a lot of eastern European influence, due in part to the instrumentation, but I am sure that Garchik and Drye's involvement with Slavic Soul Party has something to due with that as well.
The Four Bags draw an amazing variety of textures and colors out of their four instruments. There is no percussionist, yet the music is very rhythmic. Each member of the group has melodic responsibilities, just as each member at times provides part of the groove. Eight of the compositions are from members of the band, and the others are taken from a range of sources including a French pop star, and the father of classical serialism. Imagine you are in a french cafe (that is really in Brooklyn) with a free jazz band from the Balkans. That will get you close to the vibe of this CD.
If you bring a sense for adventure and a sense of humor, The Four Bags can show you a good time.
An interesting, although not particularly relevant to this CD, fact is the accordionist Jacob Garchik is also an excellent trombonist. I also had the pleasure of reviewing his CD Abstracts for the Online Trombone Journal.