Recordings
Abstracts: A Review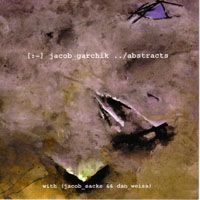 Personnel: Jacob Garchik, trombone; Jacob Sacks, piano; Dan Weiss, drums. Selections: abstract/01, abstract/02, abstract/03, abstract/04, abstract/05, abstract/06, abstract/07, abstract/08. All music written by Jacob Garchik.
Music can have many layers of meaning. Often the composer's intended meaning is spelled out through a title or lyrics, or written about in the liner notes, or depicted in the album art. Other times, the music is simply about music, and it is left to the listener to discern meaning. The latter is the case with Abstracts, the excellent new CD from Jacob Garchik. The individual compositions are simply numbered as abstract/01, abstract/02, etc. The liner notes offer all of the pertinent discographical information, and the cover has a nice abstract painting by Sonja Holzwarth Maneri, but nowhere in the CD packaging is there any verbal insight into the music. This leaves the listener free to discover personal meaning and relevance in each piece.
The music on Abstracts blurs the line between composition and improvisation. Portions of the music are obviously composed, just as portions are obviously improvised, but much of the CD occupies a space that could be heard as either, or both. The abstracts vary in style, ranging from rhythmically spacious, melodically pointillistic modern classical sounds, to grooves that compel physical motion from the listener. The musicians are obviously well-versed in jazz practices, but the music on the disc would never be mistaken for 1960's Blue Note material. In keeping with the abstract idea, this music is best served by listening, as opposed to categorizing.
The interaction between Garchik, pianist Jacob Sacks, and drummer Dan Weiss seems comfortable and natural. The musical trust is audible. Garchik's trombone skills are superb, but this CD did not leave me thinking about what a great trombone player he is, because I was too distracted by the great music to take much notice of the trombone playing. This CD is a must have for the listener that likes to explore, and it will be repeatedly rewarding to the open-minded listener.
This CD is available only from www.jacobgarchik.com. The sheet music is also available there, along with a free download of the bonus track abstract/09.