OTJ Authors
Bob Bernotas
Bob Bernotas is the author of Top Brass: Interviews and Master Classes with Jazz's Leading Brass Players and Reed All About It: Interviews and Master Classes with Jazz's Leading Reed Players, available through Boptism Music Publishing. He has contributed to numerous print and Internet publications, and has written liner notes for over four dozen jazz CDs. He also is the host of the weekly radio program, Just Jazz, heard every Sunday night over the Internet at www.wnti.org.
OTJ Articles
August 18, 2001

Grover Mitchell joined Count Basie's band in 1962 and built his reputation as a lead and ballad player. He spent the 1970s working in the Hollywood studios, rejoined Basie in 1980, and stayed with him until the Count's death four years later. In July 1995 - a year before this interview was conducted - Mitchell took over the leadership of the Count Basie Orchestra.
February 05, 2001

Frequent author for the OTJ Bob Bernotas offers this tribute to J. J. Johnson.
October 11, 2000

Grover Mitchell received his first big-time experience in the 1950s, subbing with Lionel Hampton and Duke Ellington. In 1962 he joined Count Basie and played with him for a total of 12 years over two stints. At the time of this interview, Mitchell was leading a big band of his own.
October 11, 2000

The best lead players are usually very good basic players. Tone, concept and intonation are a must. You also need good technique and good range, and must know how to lead. Finally, a lead trombone player has to work with the lead trumpet and lead alto.
April 08, 2000

Ask any jazz trombonist to name his or her three favorite players on the instrument, and chances are one of them will be Locksley Wellington "Slide" Hampton. As highly regarded for his writing as he is for his playing, Hampton also serves as role model, patron, and godfather to a new generation of trombonists.
April 08, 2000

When you get ready to program either a trombone performance or a trombone recording you have to take into consideration how long the trombone can hold people's interest. You have to be a little more creative and give the listeners constant surprises.
April 06, 2000

On March 24, 2000, beloved trombonist Al Grey passed away. In this brief tribute, author Bob Bernotas remembers some of Grey's more memorable solos, and we offer two excerpts of Al Grey's memorable solo style. God speed, Al.
November 15, 1999

J.J. Johnson was the first trombonist to translate the intricacies of bebop onto his demanding instrument. His rich, dark tone and virtually flawless command of the horn became the barometers by which all subsequent trombonists have been measured. But for all his virtuosity, Johnson never abandoned the elusive quality that is essential to all great jazz: feeling, passion, soul.
November 15, 1999

The principle behind multi-phonics--producing more than one note at a time on a wind instrument--is the overtone series. You play any note for the tonic and sing any interval above. The combination of the two notes produces overtones. You're not actually playing those notes, they're just coming out of the combination of the other two.
September 01, 1999

"Being a jazz musician," Benny Powell maintains, "is an honorable profession." Best known for his 12-year tenure with Count Basie, he has worked extensively on Broadway, television, and recordings. Powell also has made his name as a leader in his own right, a respected teacher, and a dedicated activist in the cause of jazz.
July 01, 1999

At first glance, Al Grey resembles a sleepy hound dog. Those aren't just bags under his eyes. They are trophies from more than 45 years spent on buses and airplanes, in nightclubs and hotel rooms. But just start Grey talking about his favorite subjects--Count Basie, the trombone, and, especially, the plunger--and he snaps alive and his speech begins to flow.
July 01, 1999

The important thing is to do a lot of listening and get a sense of what plunger work is about. It's a whole emotional thing. You really have to want to speak through the horn. The plunger will kick your butt, but it's also a lot of fun. If you're into really communicating when you play, there's a lot there for you.
January 01, 1999

From Jack Teagarden's innovations in alternate positions and lip flexibility, to Lawrence Brown's supple lyricism, from J.J. Johnson's appropriation of bebop articulation to Frank Rosolino's range and speed, jazz trombonists have discovered ways to do what previously was considered "impossible" on their horns. Likewise with Conrad Herwig. He is a trombonist for the twenty-first century, and he's here today.
January 01, 1999

Doodle tonguing, like any technique, will give you freedom, and that's all we want, control. You can stick to one system, like tunnel vision, but if we're looking ahead to the future--to what I call "twenty-first century trombone playing"--what we really need is an all-inclusive system, and doodle tonguing is a key element of that.
November 01, 1998

Steve Turre is, as a perceptive writer once described him, a "trombone evangelist." Tired of the trumpet-saxophone monopoly, he is out there spreading "the Gospel according to J.J. and Slide," demanding due attention and respect for his instrument. One of our most accomplished (and visible) trombonists. Turre is also the undisputed king of the shell players.
November 01, 1998

Playing the shells can help you as a brass player. They take a lot of endurance and strength. In terms of building a solo, once you can tell a story in just the interval of a fourth, you see that it's not about how many notes you play. It's about what you're saying. So playing the shells also helps you conceptually.
OTJ Reviews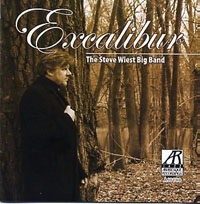 By
Bob Bernotas
• October 20, 2006
Inventive new big band CDs are rare. Important new jazz trombone CDs are even rarer. And so, Excalibur by the Steve Wiest Big Band is a double treat. Each track is like a bold journey into uncharted territory, exploring lands previously unknown, but ultimately inviting and friendly.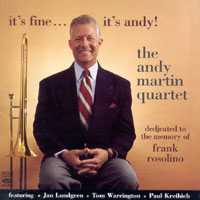 By
Bob Bernotas
• May 07, 2003
Although this new CD by talented West Coast trombonist Andy Martin is dedicated to Rosolino's memory, it is not one of those slavish, and oh, so dull, "tribute albums." While others may believe that "imitation is the sincerest form of flattery," Martin understands that, in jazz, flattery will get you nowhere. So he pays tribute to Rosolino's legacy by absorbing it and building upon it to create his own personal musical statement.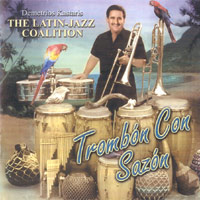 By
Bob Bernotas
• February 12, 2003
In the seventeen years since Kastaris founded his Latin-Jazz Coalition,
"El Griego Rumbero"
("The Greek
Rumba
Player") and his band have performed regularly in and around New York City. Now, with the help of some stellar guest artists, they have made a most welcomed recording debut with this engaging and excellent CD,
Trombón con Sazón (Trombone with Spice).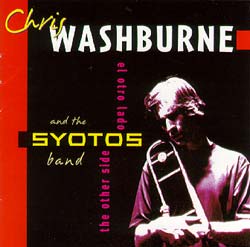 By
Bob Bernotas
• April 08, 2002
In 1992, at the age of 28, Latin jazz trombonist Chris Washburne was diagnosed with nerve cancer in his face. The doctors gave him a 50 percent chance of surviving the operation, a zero percent chance of ever playing the trombone again. So, just before checking into the hospital, he insisted on playing one last gig. When the night ended he turned to his band and told them, "SYOTOS": "see you on the other side."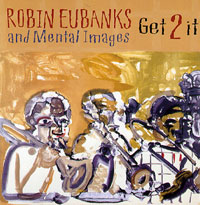 By
Bob Bernotas
• October 06, 2001
Eubanks' most recent CD release, "Get 2 It," is unquestionably the best recorded example to date of the acoustic-electronic fusion that he has so successfully pioneered.