Recordings
The Other Side: A Review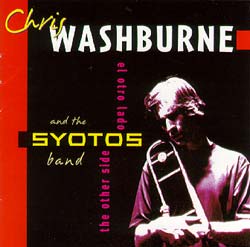 Chris Washburne and the SYOTOS Band: The Other Side. Jazzheads JH 1139. Personnel: The SYOTOS Band: Chris Washburne: trombone, bass trombone, tuba; John Walsh: trumpet; Ole Mathisen: tenor saxophone, soprano saxophone; Barry Olson: piano, marimba; Harvie Swartz: bass; Vince Cherico: drums; Wilson "Chembo" Corniel, congas, batá; Special Guests: Ray Vega: trumpet, flugelhorn; Bobby Sanabria: timbales, bata, bongos, percussion; Renato Thoms: bongos, percussion; Max Pollack: tap dancing; Maiken Derno: Korean gong.
In 1992, at the age of 28, Latin jazz trombonist Chris Washburne was diagnosed with nerve cancer in his face. The doctors gave him a 50 percent chance of surviving the operation, a zero percent chance of ever playing the trombone again. So, just before checking into the hospital, he insisted on playing one last gig. When the night ended he turned to his band and told them, "SYOTOS": "see you on the other side."
But Washburne beat the odds - twice. The operation was a success, and three months later he finally took his horn out of the case. At first his range was just a tritone and he could blow for no more than a minute. Painstakingly he added 30 seconds each day and in six months rebuilt his chops well enough to resume playing gigs.
That was nearly a decade, and a lifetime, ago. Since his return Washburne has been working extensively in New York's Latin and jazz scene with the likes of the late Tito Puente, the late Chico O'Farrill, Eddie Palmieri, Celia Cruz, Marc Anthony, and the Duke Ellington Orchestra, and as the leader of his own group, now known as the SYOTOS Band. In 1999 he put out an impressive debut CD, Nuyorican Nights (Jazzheads JH1138), and in late 2001 followed it up with this superb release filled with inventive charts, burning ensembles, brilliant solo contributions by his sidemen and guests, and trombone solos logically constructed, flawlessly executed, and overflowing with ideas.
This recording originally was planed to feature the great Tito Puente, but Puente died shortly before these session took place, so Washburne turned it into a tribute to the memory and legacy of "El Rey de Mambo." The opening track, "Titorama," is a Washburne original built on a minor montuno, and his strength and command of the horn are apparent from the start. His solo gives way to a fiery dialogue between two ex-Puente trumpeters, SYOTOS regular John Walsh and guest Ray Vega, and then another added starter, Bobby Sanabria on timbales, follows in the footsteps of the master. Walsh's "Methane Mambo," also an homage to Puente, includes layered horn lines, intricate unisons, and concise solos.
The first of three Puente compositions, "Mamborama," played by the SYOTOS Band alone, is vintage "mambo meets hard bop." Idiomatic solos by Washburne, Walsh, and the versatile bassist Harvie Swartz - who also contributes a fine original composition, "New Beginning," to this session - serve as potent reminders that, while the roots of this music are in the Caribbean (and ultimately, in Africa), it bore its first fruit in New York City.
Washburne's treatment of Puente's "Caonao" is filled with dissonance and tension, and highlighted by adventurous solo statements from the leader, Ole Mathisen on tenor saxophone, and bassist Swartz. Opening with a gong strike, Mathisen's ingeniously conceived arrangement of "Hong Kong Mambo," also by Puente, features a mutli-tracked ensemble - two trumpets, three saxophones, and Washburne playing trombone, bass trombone, and tuba. Barry Olsen's marimba solo enhances the exotic flavor, and animated interplay between Vince Cherico's drums and Wilson "Chembo" Corniel's congas add to the excitement.
The seldom played ballad, "Deep Song," is first rendered over the Yoruban batá drums, and after brief but poignant contributions by the three SYOTOS horns, evolves into a spirited guajira. Washburn's rumba, "Now What?," is brimming with surprises, not the least of which is a tap dance solo that augments the piece's inherent polyrhythms. And "The Other Side," composed by Washburne and arranged by Mathisen, is the disc's most adventurous track, distinguished by funky rhythms, dense harmonies, and bold solos by Washburne, Mathisen (on soprano saxophone), and pianist Olsen.
Chris Washburne and the SYOTOS Band perform every Thursday in New York at the Nuyorican Poet's Café in Alphabet City, and last November they marked the one-year anniversary of their weekly, ongoing Sunday night gig at Smoke on the Upper West Side. See them live if you can, but if you can't get into the city, this CD is the next best thing. And even if you are in the Big Town, for anyone who loves top-flight Latin jazz, The Other Side is a must-have.
Ordering information and sounds clips available at http://www.chriswashburne.com/.