Recordings
The London Trombone Sound: A Review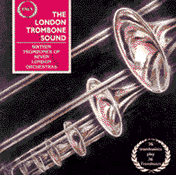 Geoffrey Simon is the Artistic Director of Cala Records, Ltd. and the conductor for this recording. I knew him, however, when he was the conductor of the North Texas State University (now the University of North Texas) Symphony Orchestra during the two years I spent there slogging away at a terminal degree. I remember many fine things about him, but primarily that he was a friend to the trombone section and appreciated us in a way not always evident in many otherwise fine conductors. It is not surprising, then, that in the Cala Records "London Sound" series, the trombone is the only non-string instrument represented (to date).
Recorded by 16 trombonists drawn from the seven top orchestras in London, this album makes for enjoyable listening for trombone fans of all stripes. The sixteen that comprise the nucleus are joined by rising young London-based jazz trombonist, Richard Edwards on the jazz and rock(!) tunes, and by about 60 other trombonists scrounged from London orchestras, bands, and music schools for the grand finale, a clever arrangement of 76 Trombones for 76 trombones! By the way, the recording, done mostly at St. Augustine's Church, Kilburn, is excellent. The acoustics of the church handle the large number of trombonists beautifully, with just the right balance of reverberation and decay for a clean, satisfying performance. An excellent rhythm section rounds out the trombones on the appropriate selections.
The musical arrangements and the opening fanfare are by Eric Crees who is a trombonist and member of the London Symphony Orchestra. They are extremely well done and imaginative with Crees turning out spectacular work on Eric Clapton's Layla and Meredith Wilson's 76 Trombones. The Pink Panther Theme (with special percussion effects) and Gershwin's Someone to Watch over Me provide excellent material for Richard Edwards' jazz improvisations and truly beautiful ballad work. The playing and ensemble work on the Monteverdi, Brahms, Gabrieli, and Barber are absolutely first rate. I would like to have heard a little more than the "Galop" from Eight Aphorisms, by Wilfred Josephs, however. One short movement hardly gives one a chance to judge a work. Still, it is agreeable enough and leaves the listener wanting to hear the rest rather than the other way around!
This album is a delight from the opening fanfare to the last reverberation of the 76 trombones (on 76 Trombones.) Hats off to Geoffrey Simon and Cala Records for producing such a fine tribute to a great city's trombonists.
Your browser does not support the audio element.
76 Trombones
Your browser does not support the audio element.
CALA Fanfare
Your browser does not support the audio element.
Someone to Watch