Recordings
Royal Opera House Brass Soloists' "On The Town": A Review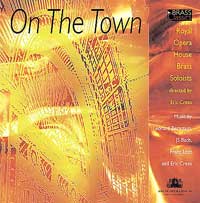 Royal Opera House Brass Soloists On The Town, in concert, directed by Eric Crees. Brass Classics BC3003. Personnel: Eric Crees, director; Ian Balmain, John Hardy, David Carstairs, Paul Archibald (piccolo trumpet), Christopher Deacon, Gareth Small (flugel horn), Rod Franks (flugel horn), trumpets; Richard Clews, Christopher Davies, Paul Gordham, Jonathan Durrant, Etienne Cutajar, Jonathan Lipton, horns; Lindsay Shilling, Dudley Bright, Michael Hext, Keith McNicoll, Richard Tyack, trombones; Susan Cordiner, euphonium; George Wall, James Anderson, tubas; Russell Jordan, timpani; Nigel Bates, Nigel Charman, percussion. Selections: Johann Sebastian Bach (Crees), Fantasia and Fugue in G minor, BWV 542; Eric Crees, The Birth of Conchobar; Franz Liszt (Crees), Prelude and Fugue on B-A-C-H; Leonard Bernstein (Crees), Suite from "On The Town."
This CD may be short in its list of works, but it is long in fantastic performing! First of all, it is worth noting that this CD was recorded live during one of the Royal Opera House Brass Soloist's concerts. Upon listening to this CD for the first time, I was impressed by the overall sound and accuracy of this fine organization, then I was taken back at the sound of applause at the end of the first track, proving that it was recorded live. Upon further investigation, I found in the jacket of this CD that it was indeed recorded live in one concert on June fifth of 2005, not in a succession of takes or even in a series of concerts.
The name of this organization implies that you will hear impressive soloistic brass playing by the members of this group. This is absolutely true, but the ensemble sound, pitch and group dynamics equally match the virtuosic individual playing.
The Bach and Liszt works, both transcribed from original works for organ and both about 12 minutes in length display wonderful technical passages as well as sensitive lyric playing. It is worth mentioning that the added percussion in each of these works sound tasteful while contributing great impact to the work and create a natural extension of the music.
The second work on the disc is Eric Crees' original composition The Birth of Conchobar, a 25 minute long programmatic work based on the early epic tales of Ulster. This work pushes each section of the ensemble to the limits and literally features nearly every member of the ensemble at some point in the piece. The solo passages that occur in every section of the ensemble throughout the work are inspiring and sound as if the musicians are having as much fun performing the work as the audience is listening.
The Bernstein closes the concert in a truly exciting way and displays the ensemble's ability to successfully cross into other musical styles. Any fan of the Philip Jones Brass Ensemble or the London Brass will vastly enjoy this recording and be pleased to have it as part of their listening library. This recording is available from most distributors or can also be found along with other brass recordings at the Brass Classics website: www.brassclassics.co.uk