Recordings
Convergence: A Review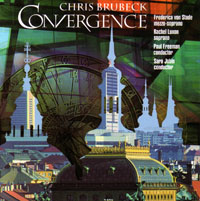 Convergence KIC-SC-7653. Personnel: Chris Brubeck, bass trombone; Czech National Symphony Orchestra, Paul Freeman, conductor; Tassajar Symphony, Sara Jobin, conductor; Rachel Luxon, soprano; Frederica von Stade, mezzo-soprano. Selections: Convergence, River of Song, Prague Concerto for Bass Trombone and Orchestra. All compositions by Chris Brubeck.
Like a fine cognac, Chris Brubeck's compositions go down smooth and mature with age. His penchant for jazz, blues and rock 'n roll find a home in full size orchestrations with aplomb. Those familiar with his Bach to Brubeck album will not find disappointment in this latest offering, Convergence.
Backed by the Czech National Symphony Orchestra with Paul Freeman at the stick, the CD's title piece Convergence sets an adventurous stage to mix and match the sounds of popular American music with the modern orchestra. Commissioned by the Boston Pops, the work's three movements can each stand alone on their own merits. The overture entitled The Journey showcases all the orchestra sections in a driving yet curious anthem. The Big Easy is represented in lavish style with Reminiscence in Blues, swaggering through laid back melodies and even a bit of second-line swinging in 7/4 time. This continues into the third movement, La Grande Parade du Funk, perpetuating that boisterous jazz march that is so quintessentially New Orleans.
River of Song is led by Sara Jobin and the Tassajara Symphony, sailing through five selected poems written by children published in a book by the same name. Vocal talents Frederica von Stade and Rachel Luxon contribute the musical text along with Taylor Eigsti's solo piano stylings. Brubeck sets to music the playful, inquisitive, and honest words of the young poets in his own unique and unobtrusive way. E. E Cummings classic "maggie and millie and molly and may" is the final tributary and destination of the set, featuring all three soloists in an orchestrated romp.
Chris Brubeck the bass trombonist emerges to tackle his newest solo work, The Prague Concerto for Bass Trombone and Orchestra with Paul Freeman and the Czech NSO once more. Those familiar with the composer's first Concerto for Bass Trombone will appreciate the opening movement of this one, The Return of the Prince, parading through the whole gamut of musical styles that Chris is intimately familiar with - jazz, funk, and rhythm and blues. The gorgeous tone of the big trombone is showcased in a soulful and introspective second movement ballad, aptly named Song of the Mountains. Here, Brubeck's natural and delicate balance of melody, harmony and rhythm is illuminated. The Prague Concerto's politically minded finale Dance of the Neocons is an intense conversation between soloist and orchestra, coming to terms in a 21st century fusion of both modern jazz and classical music.
With a trombone in one hand, and a manuscript paper in the other, Chris Brubeck, the musician, always pleases the ear. His story is an interesting one, and this CD should stay on the radar for fans of new music for orchestra pops.
Readers can find a recording and sound clips at Amazon Music.