OTJ Authors
Michael Lawson
Michael Lawson is a freelance bass trombonist in the Dallas/Ft. Worth area.
OTJ Reviews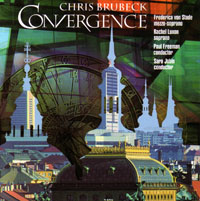 By
Michael Lawson
• September 01, 2006
Like a fine cognac, Chris Brubeck's compositions go down smooth and mature with age. His penchant for jazz, blues and rock 'n roll find a home in full size orchestrations with aplomb. Those familiar with his Bach to Brubeck album will not find dissappointment in this latest offering, Convergence.