Recordings
The Takeover: A Review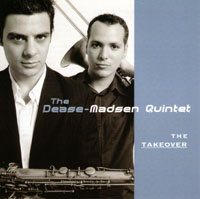 The Takeover Personnel: Michael Dease, trombone; Chris Madsen, tenor sax; Brandon Lee, trumpet on track 1; Drew Pierson, piano; Yasushi Nakamura, bass; Marion Felder, drums. Selections: The Takeover, Molasses, Fuller Up, Agrodolce, Blues for Joe, I'll Fake Romance, Cherokee. All compositions by Michael Dease and Chris Madsen except for Cherokee, by Ray Nobel, arranged by Michael Dease.
Trombonist Michael Dease's and saxophonist Chris Madsen's collaborative effort, The Takeover, shows off both musicians equally well as performers and composer/arrangers. After listening to this debut CD it's quite clear why Dease and Madsen are in demand as sidemen for notables like Wynton Marsalis, Jimmy Heath, Wycliffe Gordon and the Lincoln Center Jazz Orchestra.
The composing and arranging on The Takeover deserves mention for its quality. The uncommon front line of tenor saxophone and trombone provide a deep and warm sound that each track exploits in often surprising ways. Ranging in styles from the Jazz Messengers-like blues The Takeover to the Lennie Tristano influenced I'll Fake Romance, both Dease and Madsen cleverly utilize the two horn front line to its fullest. Not content to merely play lines in unison or homophonically harmonized, the arrangements often feature a counterpoint that is all the more effective for its rarity in ensembles of this type.
While there is a fair amount of prearrangement on this album there is also extensive space left for the players to improvise and much like the writing, the improvisations on The Takeover are of the highest caliber. This is especially remarkable considering the youth of the players involved - trombonist Michael Dease was a mere 23 years old at the time of this recording! Dease's style, while borrowing from expected influences ranging from J.J. Johnson and Curtis Fuller is already showing a remarkable originality. While many with Dease's chops would easily fall into the trap of merely playing flashy lines, he improvises in such a way that the technique always serves the music instead of the other way around.
The sidemen on The Takeover all deserve mention for their work here. Brandon Lee, who perform on trumpet on the title track, brings Woody Shaw to mind with his soloing. The rhythm section, consisting of Drew Pierson on piano, Yasushi Nakamura on bass and Marion Felder on drums, swings hard throughout and each player also shines in the role of soloist as well as sensitive accompanist.
The packaging of this independently produced album is good, although the lack of liner notes will be disappointing to fans who want to learn more about the music and musicians involved. Instead, they are directed to the professional web sites of Michael Dease (www.michaeldease.com) and Chris Madsen (www.chrismadsen.net), where you can not only learn more about them but also listen to sound files of their playing and order this CD. Both Dease and Madsen, as well as all the musicians involved on The Takeover, should be commended for their remarkable work.