Recordings
Heart Disc: A Review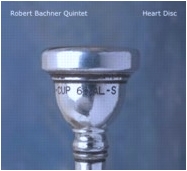 Heart Disc CD 0570 Personnel: Robert Bachner, trombone and compositions; Christian Maurer, soprano and tenor saxophones; Reinhard Micko, piano; Uli Langthaler, bass; Christian Salfellner, drums. Selections: Heart Disc, One of Two, Minor Mood, Moments of Noise, Crucial Qualities, No more doubts, For Gary.
Trombonist Robert Bachner may not be a commonly known name among jazz fans in the United States. With his debut CD, Heart Disc, American jazz fans now have the opportunity to hear Bachner's music without needing to travel to his native Austria. While jazz may have developed in the United States, the Robert Bachner Quintet proves that Europeans can play it just as well as any in the states. In addition to Bachner's very compelling trombone playing and composing the sidemen all deserve mention as important contributors to this project. Christian Maurer (saxophones), Reinhard Micko (piano), Uli Langthaler (bass), and Christian Salfellner (drums) play very expressively and interact extraordinarily well with each other on this project.
Describing Bachner's playing and composing on this album is difficult without making comparisons that do Bachner's originality an injustice. His fondness for his former teacher's playing, Conrad Herwig, is evident, as are traces of Frank Rosolino and Albert Mangelsdorff. The performance format sounds similar to recordings made in the 1960s by Miles Davis or Art Blakey. Fans of any of those musicians will surely find this album enjoyable. In spite of those apparent influences the Robert Bachner Quintet shows an originality that is more than just the sum of their parts.
Heart Disc has too many great moments to mention them all, but among them Minor Mood stands out for the composition as well as solos by Bachner and Christian Maurer on soprano sax. On Moments of Noise Bachner displays his abilities to improvise at a very quick tempo while not letting technique get in the way of telling a story. This track also features a virtuosic solo by pianist Reinhard Micko. Each track on this album is unique in mood and are all consistently well performed.
My only real criticism about Heart Disc is the lack of liner notes to tell the listener a little more about the musicians and pieces. Fortunately, the CD information lists Robert Bachner's web site, which is where you'll need to go to learn more about Bachner and how to order his debut album. If this album receives the attention it deserves we can hopefully soon hear a follow up CD.