Recordings
Dreams and Realities: A Review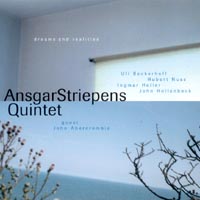 Dreams and Realities. Ansgar Striepens Quintet Laika 3510164.2. Personnel: Ansgar Striepens - trombone; Uli Beckerhoff - trumpet; Hubert Nuss - piano; Ingmar Heller - bass; John Hollenbeck - drums; John Abercrombie - guitar; and Ed Partyka Jazz Orchestra with Lee Konitz, alto sax soloist. Selections: Zoe, Wait!, Now That You Are Gone, Dreams and Realities, Waltz for Wheeler, The Pointsman's Contract, Ralph's Piano Waltz, Zoe (Reprise). All compositions by Ansgar Striepens, except #3 by Uli Beckerhoff, and #7 by John Abercrombie.
Dreams and Realities by the Ansgar Striepens Quintet with guest John Abercrombie is an enjoyable new offering from the German label Laika-Records. In many ways (including musical style, cover art, and quality), it could be mistaken for a product of the well known ECM label. The music is very much in the tradition of modern European jazz, although a touch of New York style burn out peeks through at times. Most of the grooves are straight eighth based, although when it swings (like on Wait!), it swings hard. The CD has a dreamy, mellow quality to it, with most of the songs clocking in between 7 and 11 minutes. The harmonies are colorful, and rhythmically regular giving a modal feel to many of the improvisations.
Trombonist and leader, Ansgar Striepens, is an active educator as well as performer. He earned the title Professor of Jazz Trombone at the Franz Liszt School of Music in 1997, and has also taught at the Cologne School of Music and Folkwang-University in Essen. He has assembled a group of accomplished musicians to help create this music, including John Abercrombie who guests on guitar throughout, and Lee Konitz who plays the alto sax solo on the big band version of Zoe. These musicians provide compelling performances of the equally compelling compositions presented here. The only possible criticism of the CD is that it maintains a similar vibe through most of the disc, and doesn't offer great variety from its established formal formula. I like the formula however, so I find the CD quite enjoyable.
This disc is not straight ahead, tried and true, post-bop jazz, but it is interesting and adventuresome music that comes from that tradition. If those are qualities that you enjoy, then you will like Dreams and Realities.
Web Links: Ansgar Striepens' Website (in German), Amazon.de (ordering info with sound clips, text in German)