Recordings
Obscurity by Rick Simerly: A Review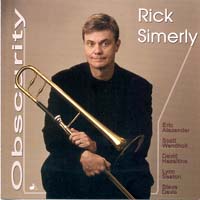 Rick Simerly: Obscurity Double Time Records DTRCD-191. Personnel: Rick Simerly, trombone; Eric Alexander, tenor sax; Scott Wendholt, trumpet; David Hazeltine, piano; Lynn Seaton, bass; Steve Davis, drums. Selections: Obscurity (Simerly), Summer in Central Park (H. Silver), Little Sunflower (F. Hubbard), Cecile's Freckles (Simerly), My One And Only Love (Mellin/Wood), Tequila Mockingbird (Simerly), Stablemates (B. Golson), I'm Getting Sentimental Over You (Bassman), Chelsea Bridge (Strayhorn), Bone Free (Simerly), Freedom Jazz Dance (E. Harris).
You probably wouldn't look for great jazz trombonists in East Tennessee, but if you did, you would find at least one. Obscurity is the title of Rick Simerly's newest CD. Rick lives in Elizabethton, TN. That's a pretty obscure hometown for a jazz musician. The music Rick makes is hardly obscure. Recorded in July of 2002, Obscurity features Rick with several of his fellow faculty members from the Jamey Aebersold Summer Jazz Camp, playing a nice mix of originals and jazz standards.
Rick fits in perfectly with his New York based sidemen, and the disc feels very natural for the most part. Eric Alexander turns in excellent performances throughout, and the rhythm section swings comfortably. This CD lacks the pretense of many recent jazz recordings, and comes across simply as great musicians playing music they enjoy.
The stylistic variance on Obscurity makes it an easy listen. There are two beautiful ballads: "My One And Only Love" and "Chelsea Bridge." Even though "I'm Getting Sentimental Over You" is generally associated with Tommy Dorsey, Rick gives a subtle nod to his friend and former employer Buddy Morrow in the intro, and proceeds with a refreshing Latin treatment of the big band classic. Lynn Seaton's trademark sing-a-long bowed bass solo is a great foil to Rick's plunger muted trombone on "Tequila Mockingbird." The Harmon muted trombone solo on "Little Sunflower" is less effective. Simerly plays an enjoyable solo that is muddied by the mute, however a solid arrangement and excellent solos from Wendholt and Alexander outweigh the Harmon choice. "Freedom Jazz Dance" begins with a reference to the Edgar Winter classic "Frankenstein." While some listeners may find this witty or amusing, others might hear it as a bit contrived, as it leads into a funk groove that feels a little like a 70's stage band. Simerly's playing feels less organic on this tune, but Wendholt plays a superb solo. Ultimately "Freedom Jazz Dance" is an enjoyable listen, but it doesn't feel as natural as the rest of the disc. Simerly's originals "Obscurity" and "Cecile's Freckles" are the highlights of the CD with hard swinging and free flowing solos from all.
Producer Jamey Aebersold and engineer Steve Good did an excellent job with the recording and mixing, and the packaging contains insightful liner notes written by John Fedchock. Obscurity, is a wonderful collection of mainstream post-bop jazz performances, and should be a welcome addition to any jazz fan's collection.
For sound clips and ordering information, please visit Amazon Music.