Recordings
Lonely Town by Alan Kaplan: A Review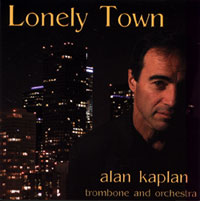 Lonely Town. Rylan Records RLN 1001, http://www.alankaplan.org. Selections: Ebb Tide, Angel Eyes, Their Hearts Were Full of Spring, I Think of You, Guess I'll Hang My Tears Out to Dry, Only The Lonely, Nancy, I Fall In Love Too Easily, You'll Never Know, Emily, Night We Called It a Day, My One and Only Love, Lonely Town, Try To Remember, Don't Like Goodbyes.
Every artist has a dream. Alan Kaplan's dream was to make a record of his favorite ballads, and that dream has come to be in Lonely Town. There is a great probability that you have already heard Alan Kaplan's trombone, and an equal probability that you did not know who you were hearing at the time. Alan Kaplan is a leading Los Angeles studio musician and has performed for countless television and motion picture soundtracks.
For Lonely Town, Alan Kaplan (the producer) assembled some of Los Angeles' finest arrangers and musicians to showcase Alan Kaplan (the trombonist) in a program of classic American songs. The orchestrations are lush and beautiful, and Kaplan's trombone is the radiant gem in this lovely setting. The musicianship is flawless throughout. Kaplan presents each melody in an elegantly simple fashion, with his clear, warm tone and gentle phrasing conveying the essence of each song. In addition to the thirteen orchestra tracks, there are two bonus tracks which are trombone ensemble arrangements recorded and overdubbed by Kaplan alone. It is quite difficult to point to any given track as exceptional, because the performances are uniformly delightful. The CD does sometimes suffer from some sameness of tempo and timbre. While the recording can keep one's interest for 56 minutes, a few medium to up-tempo selections and a brass section would have provided some welcome variety.
This is not a jazz record. There are no improvised solos or hip grooves; there are only beautiful melodies and tasteful arrangements. If you are looking for adventuresome, cutting edge music made by risk takers, this is not the CD for you. If you are looking for classic treatments of good music, Lonely Town by Alan Kaplan is a must have.
Your browser does not support the audio element.
Lonely Town
Your browser does not support the audio element.
Don't Like Goodbyes