Recordings
Trombone and Strings: A Review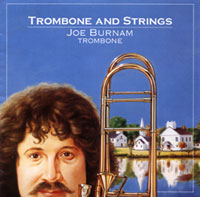 Joe Burnam: Trombone And Strings Gaydou CDCM 01. Gaydou Productions, Via Monteginevro, 6, Frazione Briolera, Luserna San Giovanni (TO) 10062, Italy. Personnel: Joe Burnam (alto and tenor trombones), Deborah Rodin (violin), Pamela Miller-Williams (violin), Nancy Agres (viola), Denis McCafferty (cello). Programme: K. Kugler: Music for Trombone and String Quartet; J. Davison: Quintet for Trombone and Strings; V. Persichetti: Serenade for Trombone Viola and Cello, No.6 op.44; C. Saglietti: Suite for Alto Trombone and String Quartet.
This CD contains four interesting chamber works for trombone and strings. Persichetti's Serenade needs no introduction for most trombonists, since it occasionally finds its way into recital programmes. It consists of seven short movements. Some of these can be hauntingly expressive, utilising the trombone's considerable legato capabilities. Others, at quicker tempi, play on the whimsical side of the instrument. It is a major piece, which, while having some modern characteristics, is nevertheless accessible to audience and performers.
In Davison's Quintet, the trombone is, unsurprisingly, the most important voice. Nevertheless, the trombone part is probably playable by a competent trombonist and string quartet and is not uncompromisingly modern. Indeed, I hope that the composer won't mind if I mention that the slightly folksy flavour of the second and third movements called to mind - for this listener at least - the music of the English pastoralists of the early and mid-twentieth century.
Kugler's Music for Trombone and String Quartet had an altogether more American feel. I was not surprised to discover from the very informative liner notes that Kugler has been active in the film industry - although this should not be taken as a criticism in any way. I was especially impressed by the very evocative and expressive opening theme of the piece, which would make a good start to any recital.
However, for this reviewer, the revelation of this CD was Saglietti's Suite for Alto Trombone and String Quartet. All three movements, "Tango," "Canzone" and "Speedy," have a great deal of musical substance and audience appeal. The liner notes state that "Tango" can stand on its own; so could the others. One strength and challenge of this suite is that the music is extremely varied. The slightly tongue-in-cheek mood of the "Tango" is followed by the the very warm expressive melody of "Canzone" which at least once or twice looks back to the eighteenth-century heyday of the alto trombone. The final movement, in addition to one or two extra-curricular noises, makes use of some rather jazzy harmon muting before a bravura finish. This piece represents a valuable addition to the very limited modern repertoire of the alto trombone.
The trombone soloist, Joe Burnam (principal trombone of the Turin Radio Symphony Orchestra) can be proud of this CD. It showcases a great deal of new and substantial music, some of it commissioned by Burnam, which might form the basis for an interesting recital. Burnam's playing is, in the main, excellent, with a good sound and a strong technique being very evident. I was especially impressed by the variety of styles that the soloist effortlessly conjured up in the Saglietti, which is the most technically challenging of the pieces in this programme. Perhaps the only criticism which springs to mind is that, especially in the Kugler, the trombone was just a little distant, but the quality of the recording, like everything else about this CD, was generally very good.
Your browser does not support the audio element.
Clip 1
Your browser does not support the audio element.
Clip 2
Your browser does not support the audio element.
Clip 3