Literature
Prelude and Fugue in D Minor (BWV 554) for Tuba-Euphonium Ensemble: A Review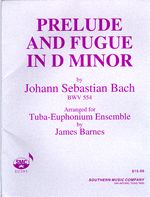 Prelude and Fugue in D Minor (BWV 554) for tuba-euphonium ensemble, by Johann Sebastian Bach, arranged by James Barnes. SU393. Southern Music Company, San Antonio, TX 78292. 1999. $15.00.
This is a very well written arrangement of a piece that works well for euphonium-tuba ensemble. I shudder sometimes when I see the word "fugue" in a euphonium-tuba ensemble piece. This is due to both the resonant nature of our instruments and, especially, to the live hall in which my ensemble performs. For these reasons fugues often sound very mushy or jumbled up when played by a euphonium-tuba ensemble. This piece successfully overcomes these obstacles.
The instrumentation is for an octet of four euphoniums and four tubas, but allows for doubling parts in a larger ensemble. The euphoniums all need to go up to high A above middle C comfortably and the firsts go up to high B-flat. The first two tubas are designated as "high tubas" and the other two as "low tubas." The high tubas aren't particularly high. They do go up around the high B-flat at the top of the staff a couple times, but are mostly in the lower part of the staff. The low tubas have a couple optional low D's (five ledger lines), but play mostly from the bottom of the staff down to low F.
This arrangement works well because everyone gets to play some of the melodic material and the tempo and rhythms are slow enough that harmonic backgrounds are clear and individual voices don't cover each other up. There is a fair amount of doubling between parts so that eight distinct voices aren't present most of the time. Except for good upper range control in the euphoniums and high tubas, there is nothing very difficult about this arrangement.
The piece lasts about six minutes. The score comes with informative program notes and very helpful performance suggestions. It is a good piece for either a high school or college ensemble and won't demand a lot of rehearsal time. There is nothing flashy about this piece, but it will still show off the strengths of the euphonium-tuba ensemble to good advantage.