Recordings
Blues for Cook: A Review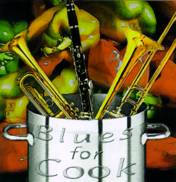 Blues For Cook: Bill Gibson, trombone; Stephen Fulton, trumpet and flugelhorn; Morris Nelms and Marc Devine, piano; Mark Nelms, bass; Cliff McMurray, drums; Beverly Gibson, clarinet; Don Parker, vibes and percussion. BGO Records CD101. Compact disc. Total time 68:09. - I'll Remember April; Pennies From Heaven; Come Sunday; Stella By Starlight; Satin Doll; Always; Clark Bars; Sonny Boy; The Nearness Of You; Take The A-Train.
I first met Bill while he was a core player for numerous years with the Ringling Bros. and Barnum & Bailey Circus band, and he's also had lengthy experience on the cruise ships and several road bands. He played well then and plays very well now. He teaches at both Augustana College and University of Sioux Falls.
For this recording, Bill is joined by the very solid Clark Terry Institute Faculty, plus some other excellent colleagues. Bill has outstanding training and credentials, and he has fused his own style with clear influences from Al Grey, Buster Cooper, Warren Covington, and Buddy Morrow. He displays an extraordinary high range and great facility, particularly in the opening cadenza to the original title track, "Blues for Cook." The plunger work on "Come Sunday" almost makes you believe that the solo line is being sung, rather than played in a trombone.
The majority of the works on this release are well known tunes, presented in the time-honored standard mainstream and bebop format. There's a pleasant variety of tempi and styles, and the mix is almost always very good indeed. The trombone sound is particularly well recorded.
Bill has done a fine job with this first feature album, which is independently produced and distributed. Although the level of improvisation is at times uneven among the many soloists, the CD is a treat that deserves both airplay and your purchase!
Your browser does not support the audio element.
Blues for Cook
Your browser does not support the audio element.
Come Sunday
Your browser does not support the audio element.
Big John