Recordings
Way of the Groove: A Review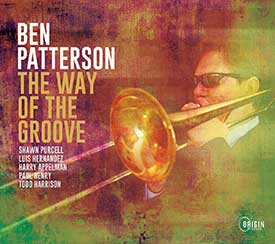 The Way of the Groove. Ben Patterson, trombone; Shawn Purcell, guitar; Luis Hernandez, tenor sax (1, 4, 6, 8); Harry Appelman, Hammond B3 organ, piano, and synthesizers; Paul Henry, acoustic and electric bass; Todd Harrison, drums and percussion; Evan Reiger, Shawn Purcell, Ben Patterson, vocals. Origin Records, Origin 82853, 2022. Compact disc and digital media, 66 minutes. "Anniversary Patio," "Here Now," "FLT," "Stank Face," "The Lucky One," "The Way of the Groove," "What Happens Next?," "This and That," "Hangin'." All compositions by Ben Patterson.
If you are looking for a single collection of fresh, new, groove-based tunes and are a fan of jazz, funk, and rock, look no further than "The Way of the Groove." Ben Patterson, a master trombonist, composer, arranger, and former long-serving member of the Airmen of Note, brings forth a delightful album with his latest release. Featuring all original compositions and an outstanding band, listeners are sure to savor this exciting new record.
The album opens with the funky and lively "Anniversary Patio." The track would serve well with vintage video games, given its light-hearted and adventurous sensibility. Patterson's trombone solo showcases his jazz language fluency and is an excellent representation of what the trombone can do, without being overly flashy. Harry Appleman's organ solo is grooving ever so nicely and includes a couple of satisfying dissonant treats. Luis Hernandez's tenor solo is in the pocket with tons of awesome lines. The post-solo interlude offers a momentary hint of enigma.
The shadowy and dusky vibe of "Here Now" is somewhat evocative of Herbie Hancock's "Watermelon Man" (1962, Blue Note), but as a sort of harmonic antagonist. The modern tones of Appleman's organ, the tasty distorted lines of Shawn Purcell's guitar, and the varied euphonic shades of Patterson's trombone make for an entrancing atmosphere. In the bright groove of "FLT," traces of "Killer Joe" (1960, Argo) and "Birdland" (1977, Columbia) can be heard. The first-rate extended improvisations make for a rich musical experience.
The mysterious and nastily swinging "Stank Face" is like a chill night drive through a city like Miami or Vegas. Soloists bring forth modern sounds through the use of effects, sophisticated harmony, and greasy blues inflections. "The Lucky One" delves into an unwound reggae milieu and one catches a glimpse of Paul Henry's aesthetic persona with his tasteful and right-in-there bass solo. Appleman and Patterson also make an authoritative statement with their rhythmically compelling solos.
On "The Way of the Groove," one is enlightened with the propelling disco beat and the high-energy solos which are saturated with classic and contemporary jazz vernacular. The introduction to "What Happens Next?" exhibits Patterson's musical and technical capabilities on the trombone, ranging from tender and sentimental to virtuosic. The emotional and personal nature of the number is expressed throughout, with the brief chant creating an additional layer of profundity.
"This and That" is a nice contrast with its mellow rock-shuffle pulse and features Patterson loading his trombone solo with an abundance of pleasant jazz thoughts. One gets the sense of "Hangin'" with the song's swinging shuffle and revolving chord progression. Both single-line soloists flaunt blues vocabulary and Todd Harrison's improvisatory prowess on the drums is spotlighted for the remainder of the tune.
This lovely album is sure to entertain a wide variety of listeners, including lovers of trombone, jazz, funk, and rock. "The Way of the Groove" is certainly a staple in today's groove-based musical world.
"The Way of the Groove" is available at Apple Music, Spotify, Amazon Music and Origin Records.