Recordings
Best Next Thing: A Review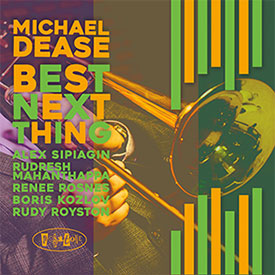 Best Next Thing. Michael Dease, trombone; Alex Sipiagin, trumpet; Rudresh Mahanthappa, alto sax; Renee Rosnes, piano; Boris Kozlov, bass; Rudy Royston, drums. Posi-Tone Records, PR8232, 2022. Compact disc and digital media, 56 minutes. "Rainbow People" (Steve Turre), "Parker's Brood" (Michael Dease), "Tiktaalik" (Renee Rosnes, Doxy (Sonny Rollins), "Charly Jaye" (Michael Dease), "Glory" (Rufus Reid), "One for Dease" (Claudio Roditi), "With Love" (Charles Tolliver), "Horse Trading" (Michael Dease), "Lullaby for Rita" (Michael Dease).
Soulful, raw, and modern with deeply-rooted tradition capture the essence of jazz trombonist Michael Dease's newest album, Best Next Thing. This is a marvelous addition to his recorded work, where one can follow the trombonist's development and refinement as a musician as well as catch a glimpse into his spiritual journey. Each musician on the album has their own unique voice and sound which fuse in a way that gives the band both a distinct and an authoritative voice. Dease does an excellent job at paying homage to some of his musical influences.
Setting the pace of the album and paying tribute to one of Dease's early influences is jazz trombonist Steve Turre's composition "Rainbow People." The driving bass ostinato, drum groove, and melody merge to create a riveting interpretation of this tune. Each solo contributes in a complimentary way; Dease's trombone with its colorful sounds and textures, Rudresh Mahanthappa's alto sax and its Coltrane-esque morphing of harmonic hues, and Renee Rosnes's piano through its hip and flowing lines that suggest strong McCoy Tyner influences.
The vintage sounding "Parker's Brood" (Dease) introduces trumpeter Alex Sipiagin, who kicks off the solos with smooth, flowing bebop lines akin to those heard in the Jazz Messengers trumpet lineage. Echoes of avant garde are heard in Mahanthappa's solo and virtuosic eloquence are embodied in Dease's solo. Rosnes's solo is drenched with jazz vocabulary and creativity while Rudy Royston's drum solo is modest, discursive, and swinging. The mood change with "Tikaalik" (Rosnes) is a perfect contrast to the last number, with its more modern harmonies, tight voicings, and relaxed pace. Dease is all over the changes, Rosnes effortlessly creates, and Sipiagin preaches the truth. The short soli which follows is skillfully arranged and makes the band sound much larger than it really is.
The fresh take on the jazz classic "Doxy" (Rollins) emphasizes a laid back approach, but in the most swingin' and bluesy manner. Horn soloists speak with their unique characteristics that are later beautifully combined and contrasted in a collective improvisation. Pure love and affection can be heard in "Charly Jaye" (Dease). Dease's soulful trombone conveys a sincere message to his second-born and Rosnes's piano paints an impressionistic image with a Mulgrew Miller evocation. The bass solo on the melody going out adds a dimension of warmth to this endearing rendition.
The contemporary and angular vibes of "Glory" (Reid) showcase the musicians' sophisticated harmonic vocabulary. In "One for Dease" (Roditi), one is reminded of Dease's album Decisions (2015, Posi-Tone) with regards to the writing style and fervent jazz language spoken by all. Pure passion and flowing energy that build until the final note are encapsulated in "With Love" (Tolliver).
"Horse Trading" (Dease) is a blues that features the free jazz sounds of Mahanthappa's alto sax, the burning virtuosity of Dease's trombone, the flowing jazz lexicon of Rosnes's piano, and the definitive beats of Royston's drums. On the final number, "Lullaby for Rita" (Dease), one can hear Dease's affection for his mother through his pen and his trombone.
With its wide variety of excellent musicians and compositions, this album delivers something appetizing for every jazz lover. It's very much in the spirit of jazz improvisation and is the "Best Next Thing" when it comes to jazz recordings.
"Best Next Thing" is available at Apple Music, Spotify, Amazon Music and Posi-Tone Records.