Literature
Learning to Play pBone: A Review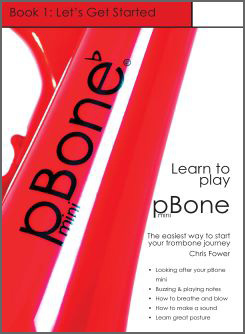 Fower, Chris. Learn to Play the pBone, Book 1. Warwick Music ED016, Seckington, Tamworth, UK, 2020. Digital download with online media.
Establishing a solid foundation is essential to success in skill development, especially when a child begins a possible life-long musical quest to learn a brass instrument. Students learning to navigate the complexities of the horn, including sound production, maintenance, and note reading can develop bad habits that may stifle or even discourage any advancement or enjoyment of music making. One of the biggest challenges for most beginning trombonists is maneuvering the instrument and holding it properly. With the advent of plastic "brass" instruments, companies like the Warwick Music Group based in Warwickshire, England, the innovators of the pBone plastic trombone, have established a simpler and easier introduction to the world of brass instruments.
Fortunately, for the world of music education, the Warwick Music Group is not satisfied with simply making plastic alternative instruments for brass players. They have collected, developed, and created multiple resources for brass learning ranging from beginners playing their first note to retired returners or late starters. The latest addition to their learning resources is Book 1: Let's Get Started! by Chris Fower, Director of Creativity and Innovation. Chris oversees product development and improvement, quality, and education. He completed his undergraduate studies in jazz and contemporary music at Leeds College of Music and was a full-time, performance postgraduate at The Royal Academy of Music for two years as a member of the Advanced Course, during which time he was bass trombone with the European Community Youth Orchestra. More information on Chris's background can be found on the pBone website
This 16-page book is nicely organized with clear instructions, eye-catching illustrations, and linked QR codes which direct the learner to backing tracks on SoundCloud and videos on the pBoneUK YouTube channel. The table of contents list ten headings:
Welcome
The Trombone
What's in the Box
Looking after your pBone
Good Posture
Holding your pBone
Breathing in and Blowing out
Getting your first buzz
Getting your first note
Let's play some notes!
Each section offers clear instructions with titles, pictures, and highlighted text to launch a solid trombone journey. A welcoming message, a brief history, and interesting facts about the trombone serve to spark interest in the first two sections. Sections three and four outline the parts of the trombone, assembly, and general care and maintenance. Posture and grip are clearly described and illustrated in sections five and six while sections seven and eight provide outstanding, age-appropriate explanations of breathing and buzzing without over-explaining the concepts. The final two sections demonstrate how to produce a sound and offer two background tracks for students to play over.
There are no resources for reading musical notes or rhythms in this book. It focuses on just getting started. A useful addition to this resource, for instance a final page, may include links or suggestions to other method books for students to learn notes and rhythms. Warwick Music may be moving in this direction and developing future resources for students and educators. Time will tell. A copy of this book can be purchased through Warwick Music, and it appears to be available bundled with the new pBone mini. Additionally, editions of this book translated to different languages would be nice additions to the resources offered for pBone and their additional products.
The pBone company and Chris Fower continue to impress with wonderful resources to supplement their fine line of fun instruments. For more pBone learning resources, educators can explore How to Play and Teaching Resources.