Recordings
Wherein Lies the Good: A Review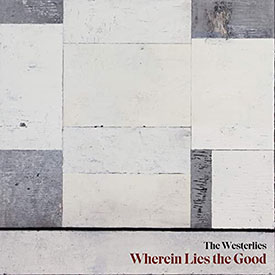 Wherein Lies the Good. The Westerlies. Riley Mulherkar and Chloe Rowlands, trumpets; Andy Clausen and Willem de Koch, trombones. Westerlies Music 2019. Digital media. 65 minutes. "Robert Henry," "In the Mornin'," "Weeping Mary," "Wherein Lies the Good," "Golden Gate Gospel Train," "Travelin'" "Shoes," "Remember Me," "Born Ten Thousand Years Ago," "Do Unto Others," "The Kiss," "From the Very First Time," "Laurie," "Eli," "Chickendog and Woodylocks," "Memories," "Entropy: Part I," "Entropy: Part II", "Entropy: Part III."
We've all experienced it: the desire to consume content without knowing what particular flavor sounds the most appealing. Whether it's browsing through movie genres on a streaming platform or rifling through a record collection, sometimes we want a little bit of everything. Luckily, there's a solution out there, and it comes from four New York musicians called The Westerlies and their album, Wherein Lies the Good.
The Westerlies is a brass quartet featuring trumpets Riley Mulherkar and Chloe Rowlands and trombones Andy Clausen and Willem de Koch. While the quartet is now based in New York, the four members are childhood friends from Seattle, and their chemistry is on full display on their 2020 album, Wherein Lies the Good. Coming in at just over an hour, Wherein Lies the Good has something for everybody: boisterous gospel melodies, raunchy grooves reminiscent of New Orleans Dixieland, contemplative ballads full of rich harmonies, and everything in-between. Navigating through such a rich tapestry of repertoire could only be possible in an ensemble as cohesive as The Westerlies.
It's impossible to understate how impressively in-sync this quartet is. Regardless of which style they're embarking on, the communication is on full display throughout the album at all levels of melody and harmony. Whether it's the unison backgrounds in "From the Very First Time" or the improvisation language of soloists in "Travelin' Shoes," it's clear that The Westerlies understand the assignment at hand. Overall, Wherein Lies the Good feels less like an album and more like a social engagement, transporting the listener into a living room with four musicians who know how to have a good time.
In addition to their cohesiveness, each member of the quartet brings their individual musicianship into the fray throughout Wherein Lies the Good. "Do Unto Others" serves as a vehicle for Mulherkar's impressive jazz language and extensive technique throughout. Rowlands shines in her lyrical lead playing at the beginning of "Weeping Mary." Clausen displays his ability to compose and perform complex rhythmic patterns in the opening track, "Robert Henry," often seen guiding the ensemble through the progressions in the group's YouTube video performance. Willem de Koch showcases his impressive range and clarity of articulation throughout the penultimate album track, "Memories." It's worth highlighting how uniquely talented each musician is and their ability to stand out within the crowd.
The album features 18 tracks, and most of them are relatively short. However, one piece stands out as a tour de force: the title track, "Wherein Lies the Good." At over 14 minutes and featuring every style in the book, this composition represents an artistic achievement. It's the best kind of music: the kind that gets better with each repeated listening. Beautiful harmonies, drastic shifts between classical and jazz styles, and impressive technical demands on all four parts make this a memorable experience and a piece worthy of being the title track to an album.
Overall, Wherein Lies the Good is a fascinating experience and one that should be sought out by audiences of all backgrounds. The music transcends traditional boundaries and creates a welcoming atmosphere to experienced and casual listeners alike. Physical and digital copies are available through all major services: Bandcamp, Amazon, Spotify, and Apple Music. Do yourself a favor and make time for The Westerlies; I promise you won't regret it.