Literature
Freedom Variations for Brass Quintet: A Review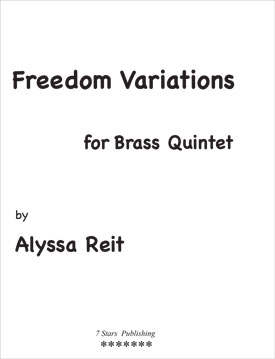 Reit, Alyssa. Freedom Variations for Brass Quintet. Seven Stars Publishing, 2021.
In her biography page on her website, the first line mentions that Alyssa Reit is a "storyteller." After listening to a recording of her new brass quintet, Freedom Variations, I understand why she deserves this title.
Freedom Variations is a theme and variations for brass quintet based on the post-Civil War African-American freedom song, "Oh, Freedom!"
This recording was performed by trumpeters Rich Clymer and Ken Tedeschi, hornist Peter Reit, trombonist Nate Reit, and tubist Marcus Rojas. This 20-minute piece features over a half-dozen variations on the spiritual and takes the listener on a musical journey through American harmonies of old and new.
As one would expect from a theme and variations, the biggest standout of this piece is its variety of styles. After a calm introduction that slowly builds in speed and intensity, the theme is presented with colorful harmonization reminiscent of the mid-20th century brass quintets of Ingolf Dahl and Malcolm Arnold. Each variation differs greatly in style and intensity. One early variation features heavily dissonant harmonies, nearly obscuring the original melody and illustrating a muddy history in America. A later variation turns the clock back to the early 20th-century with a swinging jazz style one would expect to hear in the streets of New Orleans. The piece's final variation ends on an energetic and hopeful note, concluding Freedom Variations in an optimistic fashion.
Another standout of Freedom Variations is how it embraces everything that makes chamber music great. In a brass quintet of this length, a variety of instrument pairings is important. This piece features just about every combination of duos and trios a brass quintet can showcase while also giving individual instruments time to shine. Reit also does a great job of writing conversations between the instruments, even incorporating a bell tone effect in one movement. This illustrates how important communication and score study is in chamber music and what can happen when each musician is on top of their game.
Freedom Variations is a challenging piece meant for advanced players. The individual range required on each instrument is quite large with pedal tones in the tuba and screaming lead trumpet parts in the jazz variations. Additionally, a piece with this much variety in style requires masterful communication amongst its performers, particularly when transitioning from one variation to the next. For a strong ensemble that is up to the challenge and seeking new repertoire to add to their library, Alyssa Reit's brass quintet is a worthy addition and one that will hopefully excite future audiences the way it has excited this reviewer.