Literature
Classical FlexQuartets for Bass Clef Instruments: A Review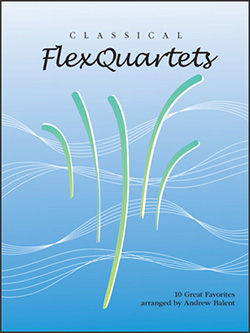 Balant, Andrew (arranger). Classical FlexQuartets. Kendor Music, Delevan, New York, 2018. 22 pages.
Andrew Balant delivers a great addition for young high school low brass ensembles. His Classical FlexQuartets provides straightforward arrangements of ten prominent composers including Bach, Dvorak, Beethoven, and Mozart. The music is written at a Grade 3 level and meets all the criteria to fit perfectly into his intended classification,
All of these arrangements are formatted over two pages, eliminating any page-turns in the middle of the piece. Averaging around 32 bars, these truncated arrangements are configured with the melody primarily in the first part, with the remaining three voices serving as accompaniment. Occasionally the melody is traded through the ensemble providing a great listening and matching opportunity for the students. As a teacher, the voicing configuration is ideal to thrust younger players into the proverbial "hot seat" playing the first part to help develop performance confidence and ensemble leadership skills, without having to struggle with endurance or range issues.
FlexQuartets provides plenty of stylistic variety in the 16 minutes of music contained inside. The arrangements would be great for a younger chamber ensemble concert or sight-reading during a high school trombone quartet rehearsal. More advanced quartets can use this as a go-to book for last-minute gigs that will not have a rehearsal. Regardless of the skill level of the ensemble, FlexQuartets should be a staple in the quartet library.
Range for each part can be found below. The composer provides octave doubling in these outer parts for when the register may be a stretch for the player, either through talent level or the limitations of the instruments. These options would take the first part to a G4. If playing the third or fourth part on a trombone, it would be necessary to have an F-attachment, as there are numerous E♭2s below the staff that are not doubled at the octave.

Figure 1. Classical FlexQuartets Part Ranges
Contents of the book include: Can Can (Offenbach), French Song (Tchaikovsky), German Dance (Mozart), The Happy Farmer (Schumann), Minuet (Bach), Rosamunda (Schubert), Slavonic Dance No. 6 (Dvorak), Surprise Symphony (Haydn), Trumpet Voluntary (Clarke), and Turkish March (Beethoven).