Literature
Music for Trombone and Loop Pedal by John Sipher: A Review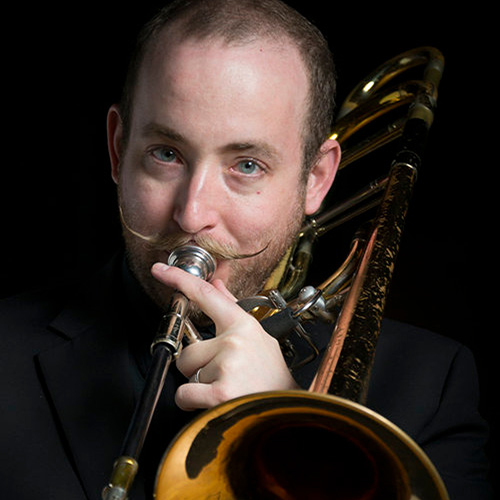 Sipher, John. "Changes", for trombone and loop pedal. 2017, revised 2020; "Recollections" for trombone and loop pedal. 2019; "Perseverance" for trombone and loop pedal. 2020; "Just Breathe" for trombone and loop pedal. 2020. Digital media (PDF).
Incorporating technology into a music performance can seem like a daunting task. However, Colorado Symphony principal trombonist John Sipher has stepped up to the task by writing four pieces for solo trombone and loop pedal. The use of a loop pedal can be done exclusively with one's feet, so there is no pressure for trombonists to free up a hand at any time. For his compositions, Sipher utilizes the BOSS RC-300 Loop Pedal, composing with this specific pedal in mind but allowing flexibilities for other pedals if they have the specific capabilities required. Contact Sipher himself at his website johnsipher.org if you have equipment questions before purchasing!
Sipher's first piece for trombone and loop pedal is titled "Changes". Originally composed in 2017 and revised in 2020, Changes meets the promise of its title and goes through two distinct emotions; it opens with all the swagger of a hip-hop beat (beatboxing included) before transitioning into a state of reflection. While the initial tempo marking is quite slow, Sipher doesn't shy away from complex rhythmic patterns in both sections. The eight-minute piece is full of varying emotions while, thanks to its slower tempo markings, serves as a good entry point for advanced trombone players who have little to no experience with a loop pedal. "Changes" is a very enjoyable listen from start to finish and is a great debut by Sipher.
"Recollections" is Sipher's piece from the year 2019. While "Changes" brings plenty of swagger before transforming into something different, "Recollections" maintains the energy with a well-established rock beat exemplified by a beatbox loop in the middle of the piece. Sipher incorporates soaring melodies over the layers of trombone loops created throughout, demanding a strong high range from the performer. A bit more up-tempo, "Recollections" has higher demands from the performer in its use of loop pedal. Overall, I would label this piece as the most-fun to listen to of the four as an audience member, though I personally prefer the next two pieces covered here.
In the summer of 2020, Sipher composed an energetic piece called "Perseverance". Written again for trombone and loop pedal, "Perseverance" is meant to be a "prayer for an emergence of a better world" according to the composer. This 9-minute piece is a whirlwind of emotion from start to finish. The first sounds played (and then looped) are muted ascending patterns of eighth and sixteenth-notes in common time. Once this baseline has been recorded and looped, a soaring melody takes off. "Perseverance" is not for the faint of heart as it climbs into the upper extremities of the trombone in beautiful fashion. Perhaps the most impressive aspect of this piece is the rhythmic complexities throughout. Despite having a fixed loop in common time, Sipher writes his melodies in mixed meter, causing an intentional phase with the loop. Later in the piece, multiple layers of a new loop are created exclusively using sixteenth notes, with some layers filling in the gaps of rest created by others. Rhythmic integrity is essential in a piece like this, and Sipher performs it excellently. Overall, "Perseverance" is a wonderful and demanding piece for an advanced trombonist.
Finally, the newest piece from Sipher is a three-movement piece for trombone and loop pedal titled "Just Breathe". Composed in the Fall and Winter of 2020-2021, "Just Breathe" represents the process of meditative breathing across its three movements. Thanks to the inclusion of the loop pedal, the sound of various breaths are created and heard throughout the piece on repeat while layers of sound are added by the trombone. Movement one, "Breathe In," quickly draws in the audience to a state of mesmerization thanks to its slow, melodic pulse of layered trombone loops underneath a soaring melody. Chaos enters the mind in movement two, "Monkey Mind," representing the thoughts that run through one's head before they release their meditative breath established in the previous movement. A stark contrast to the opening movement, "Monkey Mind" moves quickly across complex harmonies and a very rhythmic breath looped across the middle of the movement. Sipher's use of glissandos throughout this movement highlights the almost-unstable energy being emitted by the trombone. "Monkey Mind" ends and transitions directly into the third and final movement, "Release." This section manages to meld the emotions of the previous two movements, at times being both reflective and manic. In his program notes, Sipher mentions that the release of the breath also expels the negative energy, and that energy is personified by very sudden outbursts of tritone melodies before relaxing into a meditative state. The piece ends on a pleasant harmony, bringing the performer and the audience alike into the calm state of meditation. For the advanced player with access to a loop pedal capable of performing the various layers necessary for this composition, "Just Breathe" is a beautiful addition to the repertoire and a welcome voice in a time of unease.
In a world of excess, it is difficult to stand out in the crowd, but John Sipher manages to do so with this collection of solos for trombone and loop pedal. This reviewer could tell throughout the listening experience how Sipher's compositional style has matured over the years as he discovers new ways to incorporate this technology into his work. For advanced trombonists out there wanting to bring their repertoire into the 21st century, I highly recommend seeking out John Sipher's music.