Recordings
Nebulebula: A Review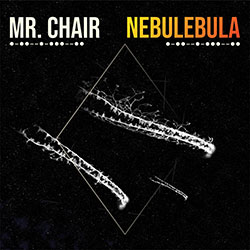 Nebulebula. Mr. Chair: Ben Ferris, electric and upright basses; Mark Hetzler, trombone and electronics; Mike Koszewski, drums and percussion; Jason Kutz, piano and keyboards. Mr. Chair, 2019, Compact discs and digital media, 116 minutes. Nebulebula, Waves, Burner Phone, Purity, Correction, Onyzx Quartet, Infinity, Falling, Mile of Ledges, Highway Rhythm, Information Age, Blue, Gnossienne No. 1, Freed.
Who or what is Mr. Chair? It might be easier to say what this group is not. Before I listened to this disc, I decided not to look them up online but rather let the music tell me who they were. Upon the first listen, I was immediately struck by the sound of the trombonist and his approach to the music, as it sits somewhere between modern Classical music and Jazz. I quickly learned that while this group has a trombone in its ranks, this is a collective performance ensemble. No one musician stands out in an individual way. This band isn't a 'jazz combo' with an album filled with melodies followed by solos, only to be wrapped up by the theme again. This two-disc collection of music covers the gamut from intense driving modern jazz, free form improvisation, gospel choir(!), moody, introspective, almost jam band-esque, to music that reveals hidden treasures as the music progresses.
Mr. Chair features compositions and performances by Ben Ferris, acoustic and electric bass; Mark Hetzler, trombone and electronics; Mike Koszewski, drums and percussion; and Jason Kutz, piano and keyboards. Madison, Wisconsin, is home to these intriguing musicians who find themselves teaching and performing in an incredibly diverse amount of settings. This genre-bending/blending seems to have created the perfect environment for Mr. Chair to showcase their talents and, more importantly, their willingness to create something new. Just when you think you have a handle on what this group is about you find out that you are wrong, but wrong in the best possible way.
Often a band will add a guest artist to a recording, and they may sound out of place, added as more of an afterthought, but all the guests on this album are exactly the right people to make this album, and the compositions work. Mr. Chair seems to have a vast stable of guests that 'get them,' and what they are doing, this is enviable. Guests include Charles Lazarus on flugelhorn, vocalist Dequandry James White with the Mount Zion Baptist Choir, tenor saxophonist Jon Hoel, narrators Buzz Kutz, and Marie Salles, as well as a string quartet.
While all this discussion about the genre-defying does speak to this double-disc of music, its individual members have strengths. I'm struck by the lyrical beauty of the trombonist Hetzler; he stands out on "Onyzx Quartet," "Nebulabula," and an electrified trombone on "Infinity," where he lets his rock influences show. Ben Ferris finds space to stretch out on a gorgeous electric bass solo on 'Purity.' At the same time, Kutz and Koszewski seem to have a musical connection that is verging on ESP, both pushing and prodding each other to take the music in unexpected directions. Koszewski is driving the group with Kutz laying down the sonic foundation that reveals and hides his musical intentions all at once.
Disc two reveals more hidden secrets of this band's depth; highlights include the heartbreaking "Falling" composed by Hetzler, "Mile of Ledges" featuring Mr. Chair with a string quartet (and electric cello - I think), Koszewski giving a drum clinic on how to build a solo that engages an audience, Kutz's face-melting synth solo on "Highway Rhythm," the oddly unsettling "Blue" and the only non-original composition on the two-disc set, "Gnossienne No. 1." Perhaps the band says it best:
Mr. Chair looks like a jazz combo, enchants like a string quartet, and electrifies like a rock band, all while delighting listeners with their fresh and authentic sound. As classically-trained musicians well-versed in Jazz, electronics, prog rock, world music, and beyond, Mr. Chair is a contemporary fusion ensemble for music fans of all backgrounds.
Nebulebula is available as a double CD digital download or triple vinyl release from the Mr. Chair website.