Literature
Domine, Salva Nos: A Review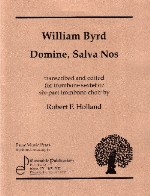 William Byrd, Domine, Salva Nos . Transcribed and edited for trombone sextet or six-trombone choir by Robert P. Holland. Published by Briar Music Press in 2003, distributed by Ensemble Publications.
Borrowed Renaissance vocal literature is not unique in our ensemble repertory. As we know, trombones were a part of the vocal tradition during the Renaissance. Robert Holland gives us a fresh stylistic challenge in his setting of Domine, Salva Nos. This wonderful work is a representation of imitative techniques used by composers of the period. Byrd was a master at this technique and Holland's setting is right on the mark.
This is an outstanding vehicle to develop nuances of articulation, balance, blend, and dynamics. To achieve the effect of the Renaissance vocal style, players must match exactly their performance of articulation and dynamics. The ensemble has to develop a very high level of sensitivity to these elements to maintain a transparent texture allowing the beautiful, cascading imitation to come through in a natural, unforced way. The work is fifty measures long, in 4/2, with the top three parts in tenor clef. All players must be able to play a fluid legato. The top two players should have comfortable A flats above the staff, the bottom part uses D and C below the staff with a pedal A flat at the final cadence.
We program this piece often. It is an audience pleaser and keeps us sensitive to "gentler" details of ensemble playing. It encourages players and listeners to open their ears a little wider. While it works well in intimate environs, we look forward to performing Domine, Salva Nos in a resonant cathedral where Byrd's antiphon would have been performed and Holland's excellent setting will bring the true effect of the original composition.
As with other Briar Music Press publications, the score and parts are beautifully prepared with great attention to detail. Phrasing and dynamic markings are placed exactly where intended and should be performed accordingly. This is a wonderful addition to our repertory.