Recordings
The Prowl: A Review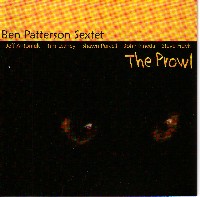 Ben Patterson Sextet The Prowl. BONECAT 102601. Personnel: Ben Patterson, trombone; Tim Leahey, trumpet; Jeff Antoniuk, tenor and soprano saxophone; Shawn Purcell, guitar; John Pineda, bass; Steve Fidyk, drums. Selections: No, I Don't Fly Planes (B. Patterson), Mother's Day (J. Antoniuk), Obsessive (B. Patterson), The Prowl (B. Patterson), Road Rage (B. Patterson), If Ever I Would Leave You (A. Lerner & F. Loewe), Sunny Girl (B. Patterson), Operation Seventeen (B. Patterson), Cherokee (R. Noble)
Released in June of 2004, Ben Patterson's debut CD The Prowl opens with the high energy No, I Don't Fly Planes (Patterson's "answer to every person-and there are a surprising number-who has approached (him) with that question at an Airmen of Note gig"). Patterson opens the solo section of this tune with a blazing run through the keys of Db minor and Ab minor: not exactly trombone-friendly keys. Patterson's technical facility is obvious throughout the CD. His articulation is so clean that at times one swears he must be using valves. But he also displays a sensitive side in his lovely rendition of the ballad from the musical Camelot, If Ever I Would Leave You.
The rhythm section provides solid backup for Patterson throughout the CD. Of particular note is Fidyk's energetic effort on the opening track. The use of guitar instead of piano throughout the recording provides a fresh, uncluttered sound for the ensemble. The writing for the three horns is excellent and compliments the instrumentation of the rhythm section nicely. The arrangements are so well constructed that the group often sounds bigger than a sextet.
Sidemen Leahey and Antoniuk provide excellent support throughout the recording, and each contribute fine solos and ensemble playing to the project. Antoniuk also brings an original composition to the CD with his jazz waltz Mother's Day. Patterson chooses to close the recording as a quartet with the notorious Cherokee, taken at quarter=330! This may be the most impressive track of the recording as Patterson displays creativity as a soloist and arranger (a very unique presentation of the melody) and a technical virtuosity that is quite impressive. This is Patterson's first CD but any trombonist that hears it is sure to hope for more. Be on the lookout for the next CD that is sure to be even better than the first.
More information and sound clips are available at Spotify.