Recordings
First Song by Ben van Dijk: A Review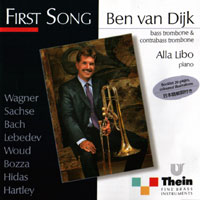 Ben van Dijk: First Song. Thein LC 08987.Personnel: Ben van Dijk, bass trombone and contrabass trombone. Alla Libo, piano. Titles: Wagner for Bass Bones, Wagner/van Dijk; Concertino in F major, Sachse; Sarabande (5th 'cello Suite), Bach; Menuet 1 & 2 (1st 'cello Suite) Bach; Concerto No. 1, Lebedev; First Song, Nick Woud; New Orleans, Bozza; Meditation, Hidas; Sonata Breve, Hartley.
With the release of his second solo CD, Dutch virtuoso Ben van Dijk plumbs the darkest and deepest depths of music for bass trombone. Richly expressive playing illuminates the way for the listener to follow. Winner of the 2003 ITA Award, van Dijk is a leader in the world of bass-trombone performance. First Song shows us why.
Music from Wagner's Ring des Nibelungen opens the CD. Scored for tenor, bass and contrabass trombone, all parts are performed and overdubbed by van Dijk. Often when one performer overdubs many tracks, the resulting tone quality suffers along with intonation. Fortunately that is not the case with Wagner for Bass Bones. From the first chorale, depth and sonority draw the listener in. The sound of the Thein contrabass provides a rich bottom voice to the choir. If there is one shortcoming with this selection, it is that van Dijk should have recorded the whole Ring Cycle--one can never get enough Wagner or bass bone!
J.S. Bach's Suites for Unaccompanied 'Cello are represented on this CD, notably the Sarabande from Suite No. 5. (This work shows up on many orchestral auditions for bass trombone.) While purists will claim that Bach's suites work only on the instrument for which they were originally intended, this recording provides a credible argument for performing them on bass trombone. Other unaccompanied selections include the declamatory Meditation by Frigyes Hidas, Sonata Breve by Walter Hartley and First Song by Nick Woud. First Song shows off lyric playing, flexibility and powerful command of the low register. Van Dijk's ringing and energetic tone is always consistent in spite of any musical challenges.
Pieces recorded with piano accompaniment include Concertino in F major by Ernst Sachse, Concerto No. 1 by Alexey Lebedev, and New Orleans by Eugene Bozza. Russian-born pianist Alla Libo does an excellent job complimenting the soloist. Accompanied tracks boast a clear texture. At no point does the bass trombone obscure what is taking place in the piano part. As in the unaccompanied tracks, the soloist performs with an exciting sound across the entire range of the instrument.
With the first-rate playing found on First Song, Ben van Dijk will likely inspire many young players to study bass trombone. His mastery of the instrument puts him in the enviable position of being able to expand the solo repertoire through new commissions. While we eagerly await a third CD, First Song should be added to the list of essential CD's for any student or teacher of the bass trombone.
The recording and sound clips are available at CDBaby.