Recordings
Northern Soundings: A Review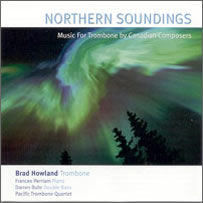 Northern Soundings: Music for Trombone by Canadian Composers . Personnel: Brad Howland, trombone, Frances Perriam, Piano, Darren Buhr, Double Bass with the Pacific Trombone Quartet, Brad Howland, Don McDougal, Bob Fraser and Kevin Thompson.Selections: Processional Fanfare, Elizabeth Raum (trombone quartet); Sonata (trombone & piano), Greg Furlong; Quartet 61, Malcolm Forsyth; The Dragon Doesn't Live Here Anymore (trombone & double bass), Steve Tittle; Fantasy (trombone & piano), Elizabeth Raum; Canadian Folk Song Suite (trombone quartet), Kevin Thompson; Chorale Preludes (trombone & piano) Robert Jones.
Northern Soundings is a fine recording of both solo and ensemble music for trombone by Canadian composers. Trombonist Brad Howland who serves as the soloist, quartet leader and producer has gathered an assortment of compositions along with a refined group of musicians to present a quality recording. The CD cover design is crisp and clean and the selection order is presented like a well planned recital.
This recording opens with a rousing Processional Fanfare for trombone quartet by Elizabeth Raum composed for the installation of the head of the Anglican Diocese in Regina. The Pacific Trombone Quartet which includes Brad Howland, Don McDougall and Bob Fraser of the Victoria Symphony along with Kevin Thompson of the Malaysian Philharmonic achieve a brilliant performance that captures the essence of a fine fanfare. The quartet's other performances on this recording, Quartet '61 by Malcolm Forsyth and Canadian Folk Song Suite by Kevin Thompson are both innovative tonal works presented with equal brilliance and clarity by the performers.
The solo selections on this album are compositions that contain elements of classical, romantic and jazz influences. The Sonata by Greg Furlong is an interesting composition that never seems to remain in one particular style for any significant length of time. It contains hints of ragtime elements, moody melodic passages and humoresque dance sequences all in a very ample yet playable composition. Fantasy by Elizabeth Raum is probably the most commonly performed composition on the recording. Brad presents a clear and comfortable performance of this fine work. Steve Tittles duet The Dragon Doesn't Live Here Anymore for trombone and double bass provides a nice change of tone colors and muted effects but tends to musically linger leaving the listener longing for an ending. The final solo selection, Choral Preludes by Robert Jones is a dark, almost programmatic score that serves as an appropriate finale to the CD.
Northern Soundings is an enjoyable recording with a nice mixture of chamber and solo selections. The piano accompaniments by Frances Perriam are solid and supportive. Brad Howland's solo performances are clean, controlled and musical although at times his articulations become muddy and his tone airy, especially in the extreme upper range. Despite these minor imperfections he represents these works by Canadian composers with admirable musicianship.
Sound clips and ordering information are available at Music For Brass.com. All of the sheet music to the pieces performed on Northern Soundings is available from Lassus Publications or the Canadian Music Centre.