Literature
Duo for Trombone and Harp by Braxton Blake: A Review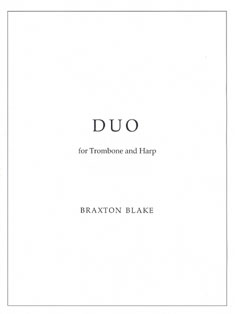 Duo for Trombone and Harp by Braxton Blake. Braxton Blake Music, Ann Arbor, Michigan.
It's hard to imagine a more unlikely combination of instruments than trombone and harp; the trombone has an extroverted, sometimes demonic reputation, while the harp is seen as more subdued and angelic. If performers and audiences can put aside those preconceptions, they will find the Duo for Trombone and Harp, by Braxton Blake, to be both familiar and challenging, and a satisfying exploration of some of the sounds available to this combination of instruments.
Duo is in three movements, titled "Rag," "Barcarolle," and "Crossings," lasting a total of about fifteen minutes. Tempi are fairly moderate throughout the work, as is the range required of the trombonist (1st line G# up to high A). Most of the trombone part is in tenor clef, and the player needs a firm command of soft dynamics in the high register.
The "Rag" has a jaunty main theme that alternates with calmer legato sections. The second movement resembles the famous Offenbach "Barcarolle" only in its peaceful, relaxed demeanor, as the harmonies consist of mostly fourths and fifths stacked on top of each other or in clusters. Next to the metronome marking, the composer indicates "scorrevole" which sent me to the dictionary where I found "flowing." Indeed, the trombonist will need to keep his legato flowing, even at pppp, in this movement. The third movement is titled "Crossings," possibly referring to the way the harpists' hand cross. Much of the melodic material alternates/crosses between the performers as well. A slow section in the middle and again at the very end has the trombonist playing with a plunger mute, held closed, for a distant effect. Throughout the piece the harp is very much an equal partner with the trombone instead of merely an accompanying presence. Many of the harmonies which may sound "jangly" on the piano here gain a softer feel from the timbre of the harp.
Composer Braxton Blake lists various other works using trombone in his catalog, and, while he considers himself a composer/pianist, admits to having played trombone in high school. Mr. Blake had this to say about the work, and how it came about:
Duo was commissioned by Maria Stange and Oliver Siefert. They wanted a piece that was challenging and rewarding to play, and would also be somewhat accessible to their audiences. For that reason, I composed this work using a language that is not as dense and complicated than the palette I normally employ.

Siefert and Stange, I'm pleased to say, have played the work many times throughout Germany and Switzerland. Their devotion to commissioning new works is exemplary, but perhaps I'm a bit prejudiced!

I have never felt the tug from the questions of musical language and the shifts in language that have been so dramatic in the last 40 years. Most of my music is non-triadic and, though is rhythmic, is often without a prescribed beat. Yet, as in the Duo, I have no qualms using triads, repetitive rhythmic patterns, and melodic elements. It all depends upon for whom I am composing and their planned audience.

Concerning the instrumentation, I was initially curious as to how well the trombone and harp would function as a duo. After hearing them play, all concerns were gone, and I feel that two of the worlds oldest instruments work beautifully together.
Duo for Trombone and Harp is available from Braxton Blake Music, 2209 Stellar Road, Ann Arbor, Michigan 48105-1140: tel/fax 734-332-9277.