Recordings
Proclamation & In Search of a Dream: A Review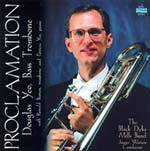 Proclamation.Douglas Yeo, bass trombone; Black Dyke Mills Band, James Watson, conductor. Ronald Barron, tenor trombone. Patricia Yeo, Piano. Doyan Digital Recordings, CD055. 80'17".
Green, Roger Challoner. In Pursuit of a Dream: Proclamation. Trowbridge, Wiltshire: White Horse Books, 1996. 304 pp. (ISBN 0-9529574-0-X)
Proclamation, a ground-breaking CD by Boston Symphony bass trombonist Douglas Yeo, is described by its executive producer as "a recording in celebration of the bass trombone." What a splendid celebration it is!
This recording, the first bass trombone solo CD produced with a brass band accompaniment, features the Black Dyke Mills Band and conductor James Watson for seven of the CD's eleven pieces. Four of these works were composed especially for this project and first performed at this recording session.
To American ears accustomed to the sound of a mixed wind band, the purity of intonation and precision of ensemble enabled by all-brass instrumentation are astounding. What is sacrificed in timbral variety is more than made up for by the brass band's subtle coloristic phrasing. The Black Dyke Mills Band is one of the finest musical organizations anywhere and on a par with the best symphonies in terms of musical excellence.
In addition to solos with brass band, Doug performs an unaccompanied solo- David Fetter's Variations on Palestrina's "Dona Nobis Pacem;" Charles Small's Conversations, with Boston Symphony principal trombonist Ronald Barron; Tommy Pederson's Blue Topaz, accompanied by trombone sextet ; and a concluding devotional piece- James Curnow's stunning arrangement of Amazing Grace for bass trombone and piano, accompanied by Patricia Yeo, Doug Yeo's wife.
Yeo's playing is impeccable throughout, demonstrating his superb technique, remarkable flexibility, and extraordinary artistry as he negotiates a wide variety of styles, all with equal aplomb. The album's title cut, Gordon Langford's Proclamation, opens with a majestic statement by the solo bass trombone that exhibits Yeo's magnificent tone and control. Stephen Bulla's Rhapsody, a set of variations on the old Gospel tune, In the Sweet Bye and Bye , shows Yeo's impressive technique and flexibility. Tribute To George Roberts, arranged by Bill Geldard, shows a jazzier side of the bass trombone, exemplified in this clip from In The Hall Of The Mountain King . Yeo's beautiful legato and phrasing, as well as his deep spirituality, are gloriously demonstrated in Joy Webb's Share My Yoke.
In short, this is the finest recorded example of bass trombone playing this reviewer has heard, and an album that is absolutely not to be missed. Extensive program notes on each piece, as well as ordering information, are available at Doug Yeo's website.

Were it not for the vision and dedication of Dr. Roger Challoner Green, this album would not have been possible. A lifelong devotee of the bass trombone and brass bands, Green has written a book to accompany the recording. Proclamation: In Pursuit of a Dream not only details the making of the CD, but also gives insight into Doug Yeo's personality by tracing their fourteen-year friendship through extensive quotations from their correspondence.
Also included is a wonderful memoir that is of interest to curious about the British brass band scene and customs, as well a brief history of the bass trombone. Green's chatty and personal style allows us to feel that we know both him and Yeo as he develops the theme of his vision, their collaboration, and the tribulations of self-producing a professional recording. Although the text is a bit slow-paced for a "get-it-done" world, it is ultimately a wonderful book and well worth the reading. The book can be ordered from Doug Yeo's website
Your browser does not support the audio element.
In the Hall of the Mountain King
Your browser does not support the audio element.
Share My Yoke