Recordings
The Golem Shuffle by Dan Gottshall: A Review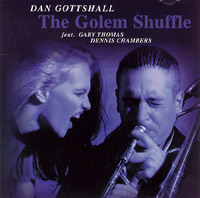 The Golem Shuffle. Timbre Records, TR CD 0. Gottshall, Trombone/Composer/Synthesizer; Gary Thomas, tenor sax, Synthesizer; Joe Wesson, Rap; Tim Murphy, Piano, Synthesizer; Sheryl Bailey, Guitar, Guitar Synth; Miriam Kaul, Soprano Sax, Alto Sax; Rolo Rodriguez, Percussion; Lonnie Plaxico, Basses; Dennis Chambers, Drums. Titles: "Motherload," Gottshall; "Alice The Goon," Gottshall; "Bought & Sold," Gottshall; "Sybase," G. Thomas; "Linus," Gottshall; "Zelda," Gottshall; "The Golem Shuffle," Gottshall.
The opening of The Golem Shuffle begins with "Motherload," a duet between drummer Dennis Chambers and trombonist Dan Gottshall which I found engaging and thoroughly modern. The bass enters to build on this duet and add harmony to the complex and angular lines played by Gottshall. After the groove is set, the next entrance heard is a rapper. After listening to this CD several times one will ask themselves why does Gottshall add rap to this great start on this recording? The rap artist does seems serve its intended purpose of shocking the listener. If this was Mr. Gottshall's goal then he may consider it achieved. The rap on this very good and modern album is detracting. What was a trombone album is turned into a strange melding of urban, jazz, hip-hop, fusion and rap that works only occasionaly. Tenor saxophonist Gary Thomas and pianist Tim Murphy play great solos on this opening tune, interacting with the obvious skills of drummer Dennis Chambers and bassist Lonnie Plaxico.
"Alice the Goon," track 2, is a less aggressive selection with more traditional jazz undertones, yet still incorporating funk and hip-hop elements. This track is quite long, allowing the solos to explore and the composition to expand beyond the 32 bar repetition of a jazz standard. Gottshall plays my favorite solo of the album on this track, developing rhythmically and harmonically to include quotes from the melody and a tasteful display of his technical ability and change playing skills.
There are elements of this recording that remind me of Michael Davis', and track 3 has elements of fusion and smooth jazz similar to Davis early works. Miriam Kaul is added on soprano sax to add to the smooth jazz feel, which Gottshall has created perfectly.
"Sybase," the only composition contribution by Gary Thomas, opens with rapper Joe Wessen, The composition itself is sparse with an angular melody yet the musicians easily negotiate this challenge. Tim Murphy plays a superb solo over the incessant backbeat delivered by Chambers. Gottshall once again delivers a fine solo. It is at this point in the album where the listener may get an idea of Gottshalls melodic and harmonic ideas. Gottshall tends to reuse similar vocabulary throughout the album. Gottshall and Thomas trade on "Sybase" which leads to a joint solo, both soloists weaving their lines through each other, with Murphy comping behind spurring them on.
The fifth track, entitled "Linus" brings us back to the smooth jazz genre, with a pleasant melody by Gottshall. Track six is the most funk oriented selection on the album. When I saw the names Dennis Chambers and Lonnie Plaxico, this is what I was expecting to hear: an aggressive funk tune where Chambers really displays his chops to full effect. The melody is once again angular, and there is a rap by Joe Wesson. For some reason this rap is easier to accept, perhaps it is the groove supplied by the rhythm section. Wesson seems to be into this rap more than the others and Gottshall explodes on this solo, playing with a fire and direction yet unheard on this album.
The final track on the album, "The Golem Shuffle," is the most creative and inventive of the set. Incorporating some free elements and the heavy use of synthesizers, Gottshall creates a type of sparse open shuffle, which he titles the album after. As with most of the tracks on this CD this track is long, allowing the musicians time to explore and develop the tune.
Gottshall has produced a very interesting hybrid, utilizing the most modern elements of Jazz and Hip-Hop, based on a firm foundation of good tunes with exciting and creative execution by each member of the ensemble. The trombone world needs more of this kind of risk-taking and creativity.
Sound clips are available at CDBaby.