Recordings
Sunday Drive: A Review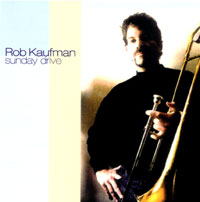 Rob Kaufman: Sunday Drive Chartmaker Records CMCD 9001-2. Rob Kaufman, trombone; Grant Geissman, guitar; Eric Marienthal, alto saxophone; Bobby Rodriguez, trumpet; Bill Liston, tenor saxophone; Dave Carpenter, bass; Bob Feldman, bass; Domenic Genova, bass; Ron Aston, percussion; John Ferraro, drums; Bob Leatherbarrow, drums; Sara LaPorte, vocals; Steve Rawlins, keyboards; Luis Conte , percussion. Produced by Rob Kaufman and Steve Rawlins. Chartmaker Music Group/Indiego Promotions. Tracks: "Sunday Drive," Kaufman/Rawlins; "The Up And Up," Rawlins; "Melrose Dream," Kaufman/Rawlins; "Until You Come Back To Me," Stevie Wonder; "Hey, I'm Walkin' Here," Rawlins; "Tropicool," Rawlins; "City Limits," Rawlins; "Spooky," Michael Shapiro; "A Second Chance," Kaufman/Rawlins; "Winter," Rawlins.
Los Angeles trombonist Rob Kaufman has released his debut solo recording highlighting his own composition and those of arranger/composer Steve Rawlins. Rob has performed all over the world, (all styles and musical venues), including Europe, Japan, Australia, and Israel and studied trombone with Roy Main, Phil Teele, Dick McQuary, and other L.A. professionals. He attended Cal State University at Northridge where he studied music writing/theory, piano, and performed with the nationally acclaimed jazz ensemble under the direction of Joel Leach.
This album contains compositions that can be categorized as being in the style of smooth jazz. This is apparently the first smooth jazz album that features the trombone. All of the selections fall within slow to medium tempos and the background instrumentation is primarily electronic. The trombone over this medium is an interesting and innovative collaboration, and when mixed with saxophone and trumpet it creates some nice moments. Guest vocalist Sara LaPorte sores in the selection "Until You Come Back to Me" and adds a welcome touch to this mainly instrumental album.
Rob's style is smooth and straightforward. He is clearly influenced by J.J. Johnson to whom this recording is dedicated. There is nothing flashy or overly impressive about his solo lines. They are melodically suave and soulful but fall within a narrow range and are technically limited. He tends to rely on repetitive motifs and slide scoops that can become tedious especially over the monotonous electronic drumbeats, which persist in each selection. The accompanying band is comprised of L.A studio players. The ensemble is tight with a good balance and the recording quality is excellent.
For fans of both smooth jazz and trombone or for listeners looking for an introduction to this mellow music, this CD is a must. However, if you're after a traditional jazz trombone recording, this album may end up only being played for background mood music at dinner parties.
Your browser does not support the audio element.
City Limits
Your browser does not support the audio element.
Winter