Literature
Panis Angelicus: A Review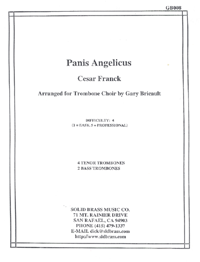 Cesar Franck. Panis Angelicus for Trombone Choir. Gary Bricault, arr. San Rafael, CA. Solid Brass Music Co. Score and Parts. $12.00 Playing Time: 4:30.
Panis Angelicus (or "Bread of the Angel Host") is a famous sacred work which lends itself well to trombone ensemble. Gary Bricault's arrangement, dedicated to John Marcellus, is scored for solo tenor trombone over a trombone quintet (three tenors, two basses). Bricault wisely chooses a simple setting which helps capture the purity of the theme and does not cover the soloist.
In writing for trombone ensemble, one always faces the trade-off between soaring (and tiring!) upper parts and pedal notes in the lower parts. In this instance, Bricault has opted for a very reasonable solo part (extending only up to G) at the inevitable cost of lower, muddier harmonies in the bottom voices. Take note that the first trombone part in the accompanying ensemble briefly extends to high B-flat towards the end of the piece. The lower bass trombonist must possess a solid, in-tune, pedal B-flat and low trigger C for the harmonies of this piece to work. While this fact may prove an impediment to many high school trombone ensembles, it should pose little challenge to college players.
The simplicity of the arrangement, while appropriate to the mood of the piece, may prove boring for the lower voices who spend most of their time laying down block-chord harmonies for the soloist. Bricault's arrangement is lightly edited; thus a conductor may have to spend some extra time with younger players working on phrasing and style. One note should be made about the playing time listed above: the time of 4:30 corresponds with the tempo of a recording of this work. The performance tempo of the recording is approximately quarter-note = 56 whereas the score indicates a brighter tempo of quarter-note = 85. This faster tempo would yield a performance more in the range of three minutes. This work is a useful, practical addition to the trombone choir folder which can be used to feature a younger soloist.

Eastman Trombone Choir: Panis Angelicus