Literature
Easy Jazzy Etudes: A Review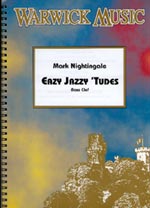 Warwick Music, Holloway Housemarket Place, Warwick England, CV34 4SJ.
Mark Nightingale's book, Easy Jazzy Etudes is just that: a collection of twenty-eight different well-written jazzy etudes. The book begins with a brief description of swing, complete with when to and when not to use "swung" eighth-notes (which he calls quavers), and then commences with music to play.
The music covers a surprisingly large area of styles from Gospel, Dixieland and jazz waltz to samba, rock and ballads. The first five etudes are in the key of Bb and do not go above the staff (bass clef). The etudes are motivic and are very simple, yet capture the rhythms and articulations of each style. Etudes 6 through 8 are still relatively simple as new keys are added (C and Eb) as well as 3/4 time and varied dynamics. Etudes 9 to 28 get progressively harder, with accidentals, chromatic passages, more dynamic contrast and the inclusion of 5/4 time being added to the fun. The highest pitch used is an eighth-partial Ab, but it is an eighth note and appears only once. Mark has written some catchy tunes which will be fun for students to play.
The book is aimed at jazz explorers grades 1-5. I would say from my own teaching experience that a motivated junior high student could learn the book quite well. The etudes are no harder than junior high jazz band charts, except that the trombone gets to play the whole thing.
As for criticism about the book, the more advanced etudes should be supplied chord changes, and for some reason the rock tunes all sound like cheesy British game show themes that one might hear on the CBC. However, with the popularity of the Austin Powers' movies, this won't deter students in the least.