Recordings
Nana: A Review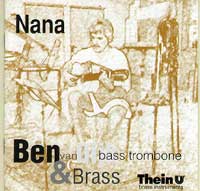 Ben van Dijk: NANA. Personnel: Ben van Dijk, bass trombone and flamenco guitar. With: Joseph Alessi, Brandt Attema, Bernard Beniers, Martin Berg, David Finlayson, Donald Harwood, André Heuvelman, Remko de Jager, Sarah Koch, Eddy Koopman, Alla Libo, Bart van Lier, Jan Oosting, Hendrik-Jan Renes, Ilja Reijngoud, Martin Schippers, Nico Schippers, Alex Verbeek, Jos Verspagen, Pierre Volders, George Wiegel. Titles:Evocation, Nick Woud. Adagio (Sonata in F Major), Tommaso Albinoni. New Orleans, Eugene Bozza. Sonata in D minor, Joseph Bodin de Boismortier. Étre ou ne pas être, Henri Tomasi. Mr. Roberts, Ilja Reijngoud. Dances for tenor and bass trombone, Nick Woud. Two Motets, Anton Bruckner. The Moose, Saskia Apon. Susanin's Aria, Glinka/van Dijk. The Chief, John Stevens. Canzone, Eddy Koopman/Giroloma Frescobaldi. Nana, Traditional/van Dijk.
Nana, the Spanish word for lullaby, may seem like a misnomer for a CD of a bass trombonist, but with help from a collection of world-class musicians, Ben van Dijk has excelled at presenting his horn as a truly melodic instrument worthy of this title.
Ben van Dijk, former bass trombonist with the Netherlands Radio Philharmonic Orchestra and professor at the Sweelinck Conservatory in Amsterdam, now holds the position as solo bass trombonist with the Rotterdam Philharmonic Orchestra and teaches at the Rotterdam Conservatory. In this, his premier solo recording, Ben has chosen a wide variety of styles and genres to display his skills on bass trombone and his ability to vary his sound as the style and instrumentation specifies.
Be aware of the volume settings on the first listening of this CD. The opening track, Evocation begins with a boasting fanfare from a brass quartet consisting of members from the Rotterdam Philharmonic Orchestra. This piece quickly subsides to a lyrical interweaving that mixes the sounds of the bass trombone with the rest of the performers in a meld of classical and baroque musical styles. The overall sound of these four instruments and the blend of the melody in the lower voicing is remarkable. I needed to replay this selection again after the initial hearing to make sure there were only four instruments playing. Composer Nick Would, who has two of his compositions featured on this CD, should be commended for his ability to combine genres while capturing a fresh and unique style.
One of the great attributes of this CD is the inclusion of duets, which is a welcome addition missing from most trombone recordings. In the Sonata in D minor, originally written for two cellos, Ben is joined by Bernard Beniers on the cimbasso, an original Italian instrument known from Verdi's and Puccini's operas. It is an amazingly effortless performance, especially given the depth of the range. The other duet on this recording utilizes the talents of Joseph Alessi in a piece called Dances. Once again from the pen of Nick Woud we hear the mixing of genres that challenges the performers and entertains the listener. This combination of sound and talent is worth the price of the CD alone.
Ben demonstrates his ability to swing in a piece entitled Mr. Roberts, dedicated to his former teacher George Roberts. This composition by Ilja Reijngoud, written for three tenor and two bass trombones, captures the essence of the big band trombone sound and allows for some burning solos from Reijngould and Bart van Leir not to mention some tremendous written interpretations from van Dijk.
Included on this album are two Bruckner motets: Vexilla Regis and Locus Iste. Here the New York Philharmonic trombone section joins Ben to produce a resonance that from the alto trombone to the contrabass is simply remarkable. There is probably no instrument that can equal the fullness of a four part choir with more symmetry and depth of sound than the trombone.
The final two selections provide evidence of van Dijk's appreciation of musical styles and his immense versatility. In Canzone the bass trombone is thrown into a strange yet interesting world of synthesized sounds, a drum machine, Irish folk tunes, a church organ and vocals. The final choice for this album is the title piece, Nana, in which Ben demonstrates his skills on the flamenco guitar overdubbed with bass trombone. It is a wonderfully romantic piece of music that lends itself to the bass trombone's upper range.
With this recording Ben van Dijk has gathered some of the finest musicians available to produce a masterpiece. Combined with this his talent, versatility and sound there is no reason why any trombonist should be without this CD in their collection.
Your browser does not support the audio element.
Nana
Your browser does not support the audio element.
Mr. Roberts