Personal Interest
Tribute to J. J. Johnson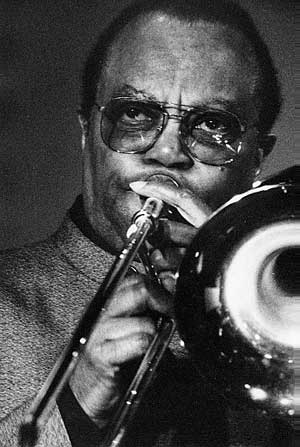 Sometime during the late 1960s, when I was barely a teenager, I happened to hear a recording by the 1946 Esquire All-American Award Winners. It was called "Indiana Winter," a feisty bebop line over the "How High the Moon" changes. The group was filled with jazz stalwarts - Charlie Shavers, Teddy Wilson, the mighty Coleman Hawkins - but I could not help but be struck by the lead-off trombone solo. The (yet unknown to me) player leaped in, quoting the first half of the familiar "Salt Peanuts" lick, and then spun out a full chorus of pure, idiomatic bebop. He, I later would learn, was still a month shy of his twenty-third birthday. But what a sound, what mastery, what imagination! This was a musician to remember and pursue. That was my first "encounter" with J. J. Johnson.
And pursue him I did - his recordings, anyway: "Walkin'" and "Tempus Fugit" with Miles, "Blues" and "Body and Soul" from the first Jazz at the Philharmonic concert, "Teapot" and "Blue Mode" with Sonny Stitt, "How Deep is the Ocean?" and "Crazeology" with Bird, that astounding live set with Stan Getz - both the mono and the stereo versions - and countless others. And at the pinnacle of this rich mountain of trombone jazz stood two perfectly titled Blue Note masterpieces, "The Eminent Jay Jay Johnson, Volumes 1 and 2."
Fast forward to December 1994. J.J. Johnson was back living in his native Indianapolis, but he had come to New York for a week-long gig at the Blue Note, followed by some dates in the studio. Seizing the opportunity, I managed to schedule a face-to-face magazine interview with him. It can be a risky proposition, finally meeting one of your heroes. Will it be all you hoped, or will you leave disappointed and disillusioned? In this case, it was more than I dreamed. J.J. Johnson in person proved to be intelligent, articulate, candid, friendly, cooperative, patient, witty, and, yes, very well-dressed. At no time did he make me feel that I was intruding on his time or that he had something more important to do. And after our "official" interview was over, he continued to talk with me. It should come as no surprise that I was happy to spend as much time with J. J. Johnson as he would let me.
The next, and only other, time I saw J. J. Johnson off the bandstand occurred just over a year and a half later, in August 1996. Steve Turre was playing at Bradley's, and as I walked into the now-defunct jazz club I spied an empty stool at the bar next to a distinguished looking older gentleman. I asked him it if the seat was free and he said that it was. He seemed vaguely familiar, so as I slid onto the stool I took a quick sideways glance at the man, and then I realized! "Aren't you J. J. Johnson?" I asked, knowing full well that he was. I reminded him of our previous meeting and asked what he was doing in town. He told me he had come in to tape Marian McPartland's radio show and decided to stop by and see one of his favorite trombonists.
Steve played his entire set, never noticing the man sitting next to me. When the set ended, J. J. walked over to say hello and I thought Steve was going to drop. "Man, I didn't know you were here!" he exclaimed to our mutual hero. "I'd have been soooo nervous!" Shortly before the start of the second set, J. J. told me he was happy see me again, shook my hand, said goodnight, and left the club. Yes, it was a very good night - one of the best ever. Thanks, J. J., for everything.