Personal Interest
Profile: Al Grey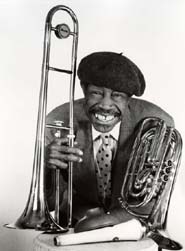 One hot summer Manhattan afternoon, Grey parked his Dodge van--illegally, of course--near the corner of 57th Street and 6th Avenue. For the next hour and a half he sat in the front seat, recounting, with obvious delight, his life as a musical gypsy.
"I just worked with Al Grey," fellow trombonist Art Baron remarks, "in the Clark Terry big band at the JVC Festival at Carnegie Hall. We were sitting next to each other and there was a kind of a free-for-all blues. He jumped up and played the first solo--a plunger solo. There was a sax solo and a trumpet solo and then I jumped in, and I felt like I played real well. And Al was saying, `Yeah, go 'head, man,' when I was playing. Afterwards I said, `Geez, Al, I was real nervous playing a plunger solo in front of you,' and he said, `Well, you should be!'" Al Grey is the trombone's reigning plunger-meister--and he knows it.
At first glance, Grey, his faced etched with character, resembles a sleepy hound dog. Those aren't just bags under his eyes. They are badges, trophies from more than 45 years spent on buses and airplanes, in nightclubs and hotel rooms. But just start Grey talking about any of his favorite subjects--Count Basie, the trombone, and, especially, the plunger. Suddenly, he snaps alive and his speech begins to flow, peppered with toothy grins and throaty laughs ("ah-haa-haa-haa").
One hot summer Manhattan afternoon, Grey parked his Dodge van--illegally, of course--near the corner of 57th Street and 6th Avenue. For the next hour and a half he sat in the front seat, recounting, with obvious delight, his life as a musical gypsy. In less than 24 hours he would be off again, this time for a month-long tour of Europe with Benny Carter, Harry "Sweets" Edison, Marian McPartland, Milt Hinton, and Louis Bellson. "I'm the youngest one in the group," he laughed. "Aah-haa-haa-haa."
Grey was born on June 6, 1925 in Aldie, Virginia, not far from Washington, D.C. He was three months old when his family moved to Pottstown, Pennsylvania, north of Philadelphia. For young Albert Thorton Grey, a house filled with music presented irresistible temptations. "I started `playing' at the age of four," he remembers, with a chuckle, "'cause I was messin' with my father's trumpet--I used to get spankings for messin' with it. So I've been at it all my life. Then when I went to school we didn't have any money, so we just automatically played whatever the school furnished. For me, that was the baritone horn."
At school, Grey trudged his way through the low brass family. "I was playing the baritone, and then went to the tuba--the Eb tuba in junior high school, and in high school the Bb. Our band director was a trombone player and I used to look at his trombone, sitting up in front of the band, and I liked his sound."
"Well, anyway, from this I knew I wanted to play. But we were a religious family and I couldn't play jazz at the house, so it was not that easy. But I loved it, until finally I heard Louis Armstrong and Count Basie--never knowing that I would eventually play with them, 'cause I was only 12 years old. Yeah, Al Grey has just about played all his life. And I very happy that I'm around to talk about it now, you know, and really have an idea of how it goes."
During World War II Grey joined the Navy and was sent to the Great Lakes Naval Training Center, where many professional musicians also were serving. "The tuba had become obsolete for jazz by that time," he notes, "and so at Great Lakes I would practice trombone in the `head.'" Soon he played it well enough to join the band.
Grey saw plenty of action during the war, but not the military kind. "I was shipped out from Great Lakes to Massachusetts to an ammunition depot, where we had a band. And then I was shipped to Grosse Isle Naval Air Station in Grosse Pointe, Michigan, very close to Detroit. I used to come into Detroit and go jammin' at all the nightclubs. They used to call me `the Sailor Boy.' They didn't know my name but they said, `The Sailor Boy comes around and he plays pretty good.'"
Grey's Navy hitch ended in 1946 and, just three days after his discharge, he began his still on-going musical odyssey. "I walked out of the Navy and into Benny Carter's band," he recalls incredulously. "Benny Carter came into town and J. J. Johnson just had left the band. He needed a trombone player and he heard that Al Grey was pretty good around Detroit. Benny was like a teacher to me. I played with Benny until he broke up the band to go into the studios to write for movies. That's when I went with Jimmie Lunceford. I took Trummy Young's place in that band--I used to play all of Trummy's tunes. I stayed for over a year with the Jimmie Lunceford band and then joined Lucky Millander's orchestra, and then Lionel Hampton."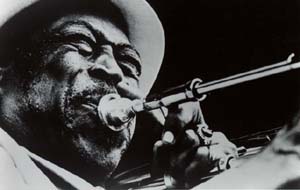 Trombonist Benny Powell was a long-time section-mate of Grey's, first with Hampton in the late '40s, and a decade later with the Count Basie juggernaut. "Al was never anybody's dummy," Powell muses. "He always knew how to promote himself, he had a lot of charisma, and was a fine player. So consequently he got most of the solos."
"Al had a little status then because he had been with some other name bands," Powell continues. "I think he might have been the oldest guy in the section--certainly he was the most experienced. He'd sit on the end of the section and sort of turn his back to the other trombone players, so we started calling him `Boss Man.' It's not an acknowledged nickname, but it was given to him by the trombone section in Lionel Hampton's band--and it's done lovingly. He always has had a little edge on the situation, and he's smart enough to know when he has an edge on the situation. So, he'd take full advantage of it."
Grey even used that edge, according to Powell, on the formidable Gladys Hampton, the lioness who managed Lionel. "I can remember Al playing a tune called Cynthia, which happened to be the favorite of Mrs. Lionel Hampton, who controlled the purse strings. Al, as I said, he's never been anybody's dummy. When he needed to draw some money, he made sure he played Cynthia. And the notoriously tight-fisted Mrs. Hampton would give in, and give up the green."
While he was a member of the Hampton band Grey discovered "the biggest asset today of my living"--the plunger. "We had a blues singer in the band," he recalls, "Sonny Parker. He would sing, `Hey, pretty baby,' and then there would be a gap for maybe around about four or five beats before he comes back and says, `I love you so.' It felt so empty to me. So one night, feeling pretty good from having a taste, I picked up the plunger and played, `Kwah-kwah-kwah-kwah-kwah-kwah-kwah-kwah-kwah-kwaa-kwaa,' to fill the breaks. After it was over, Lionel Hampton said, `Uh, keep that in. Keep that in.'"
Grey soon left Hampton and took his distinctive trombone sound into the New York studios. Then, from 1956 to 1957, he worked in Dizzy Gillespie's big band. Bookings were scarce, transportation costs were high, and Gillespie's men had more than their share of nights off. During one of these idle periods, on a late October night in 1957, Grey, who was in living Philadelphia, got the break of a lifetime.
"Count Basie came to Philadelphia, to the Pep's Show Bar, and I went to see the band. That night Tom McIntosh was sick, so they only had two trombone players, and the guys pointed at me and said, `Hey, Basie, there's Al Grey down there, tell him to come play.' Basie looked down and he saw me and he just did like that," Grey explains, making the universal trombone slide motion with his right arm, "meaning, `Get your trombone.' This was in South Philadelphia. I went all the way to North Philadelphia, man, and got my horn and came back."
"When I finished that night, Basie said, `You have a passport?' and I said, `No.' He said, `We're going to Europe in four days and you could have the job if you want it.' I went to Washington, D.C., and they got me a passport into New York two days later. The next day we went into the recording studio. So I went to Europe--played a royal command performance in England right off." And poor Tom McIntosh, who had just joined the band a short time earlier, was out of a gig. (McIntosh later built a successful career as an arranger-composer for the Hollywood studios.)
But, Grey learned, it's not easy being the newcomer in an established band, especially when you're an experienced and self-confident improvisor. When he joined Basie, all the trombone solos belonged to the two incumbents, Henry Coker and Benny Powell. Naturally, Grey felt frustrated.
"With Dizzy," he observes, "I had been playing a lot of solos. You really stretch out in Diz' band. But here, I'm just joining the band and there's no charts for me. After three weeks where you have no opportunity to at least play eight bars, you can climb the walls--and I did! Eventually they knew that I should play something, 'til one night [trumpeter] Joe Newman said `Hey, man, just play my solo for the eight bars in Jumpin' at the Woodside.' And I must have played a thousand notes right in those eight bars! Aah-haa-haa-haa."
"It came to a climax and I asked Basie, `Why did you bring me over here and I don't get a chance? And he said, `Wait one minute, you just got here. When we get back to the United States we'll have charts written up for you.'"
True to his word, Basie soon began featuring Grey--sometimes open, sometimes with the plunger--on now-classic numbers like Half Moon Street and Segue in C by Frank Wess, Thad Jones'H.R.H. ("that's the highest I ever played in my life!" Grey muses) and The Deacon, Neal Hefti's A Little Tempo Please, and I Needs to Be Bee'd With by Quincy Jones. "I eventually ended up with so many solos," he claims, "until I had to divide them up, 'cause the other guys began to feel the same way. Ah-haa-haa-haa." You mean, the Boss Man was giving away his solos? (Sometimes its better not to ask that follow-up question.)
Basie, Grey recalls with gratitude, helped him refine his plunger style, particularly in he way he accompanied the band's singer, Joe Williams. "Count Basie would say, `Simplicity. Make it like a human voice and don't get in Joe Williams' way. Whatever you can do in between there, fine. Paint a picture.' So then I became imaginative about playing."
"Count Basie told me when I first moved over from Dizzy's band, he said, `Don't try to play all you know in one night,' meaning, `You're playing too much. Try to play for the layman that's out there, for the people that came to see you. Don't play everything for yourself.'"
"When I recorded Makin' Whoopee--this was when I first got with him--I thought it was really out of sight. We listened to the playback and I just knew. But Basie said, `Yeah, that's all right, but--simplicity. Why don't you stick around the melody a little bit more?' I said, `OK, Chief'--that's what we called him--and I stuck around the melody, and that became the biggest tune I get requests for, still today. It was even put into the album we did with Frank Sinatra, Sinatra at the Sands, the only instrumental track."
Through his recordings with Basie--especially those backing Williams--Grey built a reputation as both a unique solo voice and a sensitive accompanist. (He also acquired a new nickname, "Fab"--"That's short for `Fabulissimo,'" Benny Powell notes.) Soon, he began appearing on record dates with most of the top singers in the business. "The next thing I know," he says proudly, "I was doing fills for Ella Fitzgerald, Sarah Vaughan, Teresa Brewer, Tony Bennett, Bing Crosby, Frank Sinatra." And yes, that's Al Grey shoutin' and growlin' and helping Brother Ray "let the good times roll" on the opening track of that classic 1959 album, The Genius of Ray Charles.
Grey's one-of-a-kind trombone voice also began resounding in the studios of Hollywood--although anonymously. For instance, millions saw Stephen Spielberg's 1985 hit, The Color Purple, but few know that it was the horn (and plunger) of Al Grey that made Celie's Blues one of the most memorable moments in Quincy Jones' stunning soundtrack. "Quincy knew exactly what he wanted, and he knew that I could get the sounds that he wanted. So, sure enough, he had a squawk right at the beginning, before Whoopi Goldberg jumps out--Baaaaah!--such a dissonant chord. When the plunger explodes after that, oh yeah, it will bring anyone to attention."
Grey left the Basie band in 1961 and, except for sporadic return stints with the Chief, he has been "completely on my own" ever since, heading up a string of swinging combos. Over the years, Grey's groups have featured the likes of saxophonists (and co-leaders) Billy Mitchell and Jimmy Forrest, vibraphonist Bobby Hutcherson, drummer Bobby Durham, and pianists Herbie Hancock, Shirley Scott, and Ray Bryant. His current band, "the New Al Grey Quintet," made its debut in 1988 and spotlights Joe Cohn, the son of the late saxophonist Al Cohn, on guitar and trumpet, and Grey's own son, Mike, on trombone.
A Berklee graduate, Mike Grey still had to learn one of his most musical valuable lessons from his dad. The plunger, it seems, is not part of that super-hip conservatory's curriculum. "My son finished up there at the Berklee School of Music," the senior Grey explains, "and he had to come home and ask me, `What are you doing, Pop?' So then I had to show him, and now he is working with the plunger."
Does Grey find it difficult to perform alongside his son? "It is and it's not. At first I felt, don't give him too much pressure. Give him a chance, an opportunity to do something on his own. So I was, maybe, lightening up in my playing. But several times he got such a big hand when he finished, I turned around and looked at him and said, `Well, OK, everything is over now. I'm gonna show you that it's not just like that.' I am putting pressure on him no end now." Grey flashes another wide smile and lets out one more devilish laugh. "Ah-haa-haa-haa."
Jazz, in Grey's view, isn't very complicated. It's just a way of expressing intense, personal feelings and communicating them to others. So naturally, he is at his best in live performances, where he is able reach out to an audience and hold it spellbound--and especially when he pulls out his trademark plunger. For a sample of Grey's unique brand of magic, check out his feature tune, "St. James Infirmary," from Live at the 1990 Concord Jazz Festival, First Set (Concord Jazz). It is as much drama as it is music.
"He has a feeling for emotions of people," Benny Powell observes, "and Al has been confident in his own style. In fact, he recorded with J.J. Johnson and didn't feel obligated to give up anything of himself. He is strong in knowing who he is and exemplifying that on the trombone. Some guys just play circles all over the horn, but Al can come in with two or three notes following them and wipe all of that away."
Art Baron agrees. "Oh, he's inspiring 'cause he really swings hard. And he's a `talker.' I have great admiration for Al, 'cause he comes from the idea that there's no reason to play except to communicate and express and swing. People love him for that. He has some great chops, too, and he plays some great open stuff."
At one time Grey was a highly sought-after private teacher--too highly, it turned out. "I had 43 students," he remembers, "and it became too much." Unable to give them all the attention they needed, Grey decided to give up teaching. Now he takes only special students under special circumstances. "Like Delfeayo Marsalis--he wanted me to show him about the plunger. If he could afford to make trips all the way to my home, I felt as though I'd be obligated to help him, because he means it and he needs it."
To fill this void, Al and Mike Grey have published their own instruction book--Plunger Techniques: The Al Grey Plunger Method for Trombone and Trumpet--the next best thing to private lessons with the master. This comprehensive excursion into the art and science of plunger playing, Grey insists, is meant to serve young brass players as a guide, not a crutch. "I just furnish you the tools," he maintains. "You get your own sound--you create your own sound--and you're not Al Grey."
---
Nearly eight years have passed since this profile was first published, but Al Grey, who will turn 74 this June, is still going strong. His latest CD, Me N' Jack (Pullen Music), which features organist Jack McDuff, is one funky, swinging affair. In 1997 chronic diabetes required the amputation of some of toes and sidelined Grey briefly. But after a successful recuperation period the irrepressible "Fab" picked up right where he left off, traveling the world, delighting the crowds, and laughing at life ("Ah-haa-haa-haa").
© Bob Bernotas, 1991; revised 1999. Used by permission. All rights reserved.