OTJ Authors
Andrew Glendening
Andrew Glendening is Director of School of Music and Professor of Trombone at Northern Illinois University, Dekalb, IL. He holds a B. Mus. in Trombone Performance from the Oberlin Conservatory of Music, and a Performer's Certificate, M. Mus. and D. Mus. in Trombone Performance from Indiana University. He studied trombone with M. Dee Stewart, Per Brevig, Thomas Cramer, and Frank Crissafulli. He is the author of "The Art and Science of Trombone Teaching" and served as host and artistic advisor of the 2017 International Trombone Festival.
OTJ Reviews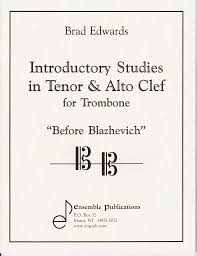 By
Andrew Glendening
• March 18, 2003
Introductory Studies in Tenor & Alto Clef for Trombone "Before Blazhevich"
by Brad Edwards is intended to bridge the gap in the clef study literature between the overly simplistic and the overly difficult and to provide an improved introductory experience to the second section of the Blazhevich
Clef Studies.