OTJ Authors
Brad Howland
Brad Howland is the Principal Trombone of the Victoria Symphony Orchestra, and will soon release his first solo recording, Northern Soundings, featuring music for trombone by Canadian composers. He is also a member of the Pacific Trombone Quartet, a group about to release their first CD, a collection of Christmas music known as Bedlam in Bethlehem. For more information, please visit Brad's web site at www.bradhowland.com.
OTJ Reviews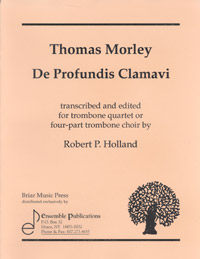 By
Brad Howland
• January 17, 2003
With such a large pool of Morley's music to draw upon: why haven't we arranged more of it?
De Profundis Clamavi
appears to be an attempt to change this situation. It's not one of the madrigals, but an example of Morley's liturgical music, a Latin motet.