OTJ Authors
Adam Meyer
Adam Meyer is a trombonist and conductor living on Australia's Gold Coast. He regularly performs in orchestras, wind ensembles, big bands, and chamber groups throughout Australia, and has been Music Director for several music theatre productions. As a soloist he regularly performs and keenly promotes the music of Australian composers.
OTJ Reviews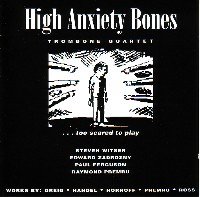 By
Adam Meyer
• August 18, 2005
From the very first notes, the technical facility of High Anxiety Bones on their album
Too Scared to Play
is clearly evident and doesn't fail to impress. From the solid high-register playing of Steve Witser through to the robust bass trombone sound of the late Ray Premru, one can find an abundance of inspiring performance. But it is the work these gentlemen achieve as a quartet that is truly exceptional.